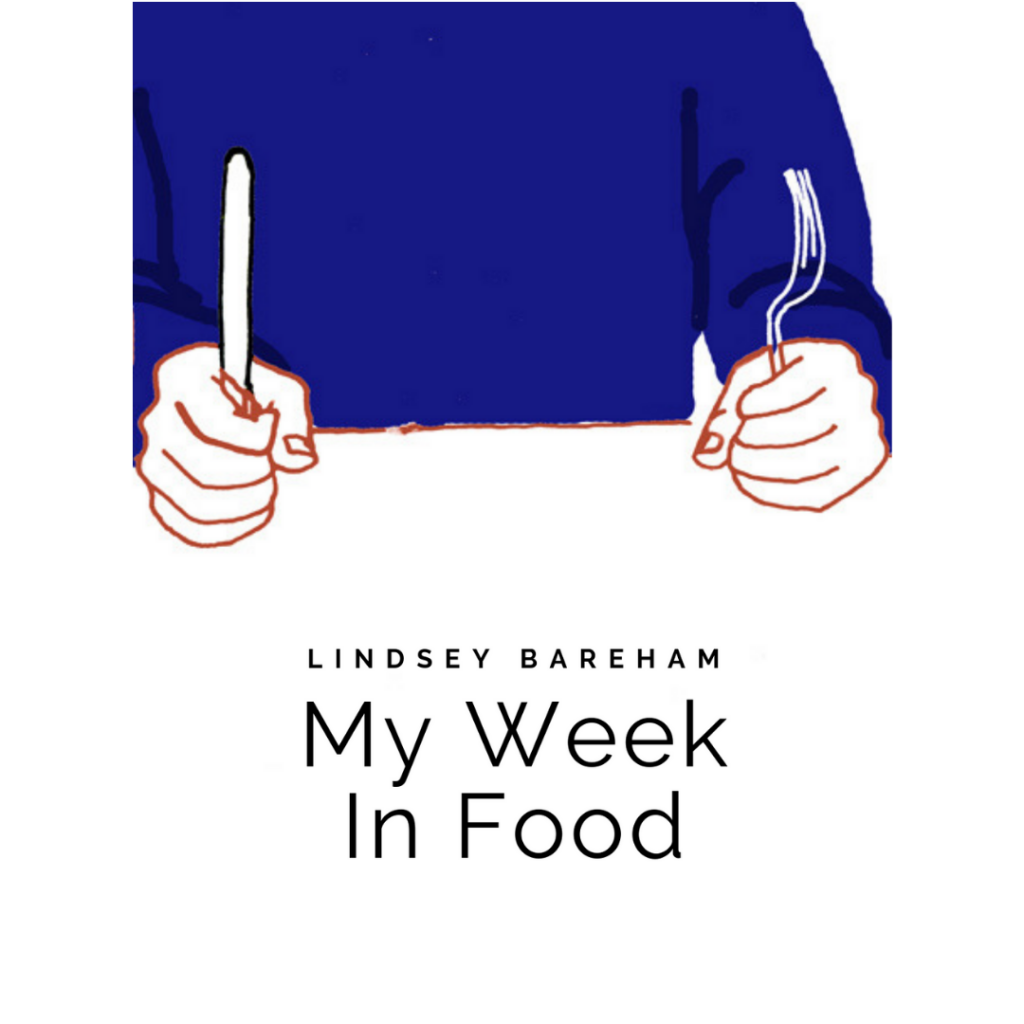 JUNE 30 2019
Sunday
The wonderful sunny weather holds out, so it's lunch in the garden and thoughts of super-easy, minimal cook meals. Made a batch of what I call River Café chillies, which is something my son Zach learnt when he worked there; red chillies are finely chopped then immersed in olive oil, ready for action. As they sit, the chilli heat mellows and the olive oil takes on gentle heat. I spooned some over quickly fried halloumi for lunch with lime and capers. Bought herby pork sausages from Chiswick Farmers Market and plain chipolatas for grandson's supper on Monday. A pretty lettuce was trimmed and planted in a bowl of water to keep it fresh. Went for a long walk with Red leaving a washing line full of fig leaves drying in the sun.
The combination of a long walk, the heat and lengthy watering the garden brought a wave of laziness about supper. It was going to be leftover lobster (from Saturday) turned into a pasta dish with peas and mayo but the lure of sausages in the fridge was too much. Hence bangers, roast tomatoes with leftover boiled Jersey Royals roasted to a crisp roast at the same. As is so often the case, it was the potatoes that were the choice mouthful. Gooey, buttery dolcellate dolce spooned into a pot from www.bayley-sage.co.uk with toasted Hedone brown (still my favourite loaf) concluded this delicious Sunday supper.
Monday
Two of the dynamic ladies who run www.cookbookfestival.org a nom de plume for the flourishing cookery empire that organises the Chiswick event (part of the www.chiswickbookfestival.net from 12-16 September) popped in to collect a huge pile of my books for signing at tomorrow night's dinner. After they left, I spent the morning preparing my recipe notes for the dinner, pleased to hear that all was on course for the mega meal. Avocado and tomato for lunch, then nipped to Tesco to buy grandsons favourite brioche buns and headed off to meet them. Lovely hour or so in the school's local square, where they ran around like loonies with their friends and Red, my dog, and I played ball. Their supper was Jago's Soup (see last week; recipe coming soon), strawberries from the front garden and yoghurt with a swirl of wild Greek honey from the excellent Greek stall at Sunday morning Chiswick Food Market (www.dukesmeadowstrust.org/food-market-chiswick).
A friend arrived for a drink and joined Caspar and me watching the impressive Cori Coco Gauff wipe out darling Venus Williams. Jago plied Jane with crisps and toasted almonds, whispering in my ear several times to ask what else she might like and then cracked walnuts for her. What a charmer he is and he's only six.
The Barrister arrived hot and crumpled from crossing town in rush hour, downed several glasses of water, shunned white wine, reaching for a bottle of Whispering Angel. It was the perfect accompaniment to the River Café inspired linguine crab. My version was made with particularly springy radiatore, a pot of freshly picked crab from the freezer (www.seafoodandeatit.co.uk for stockists) using the remains of my prepared chillies in olive oil, with lashings of finely chopped flat leaf parsley and a squeeze of lemon.
Tuesday
Spent the day faffing around organising myself for tonight's 3rd Cookbook Festival Supper Club with my Early Summer menu. It started with garlicky moutabal (see Recipes) with quickly pickled cucumber and Gail's-style sesame crisps for scooping and crab crostini, both adapted from The Fish Store and on the table for people to tuck into the moment they were seated (all 48 of them).
The first course was roast tomato borscht with pesto toast and a swirl of creamed feta adapted from The Big Red Book of Tomatoes. The main course, chicken confit renversee with tomato vinaigrette and green beans and a huge bowl of Jersey Royal potatoes to share (adapted from the Big Red Book of Tomatoes). There was a vegetarian option of roast butternut squash wedges with the tomato vinaigrette and Greek feta (recipe coming soon). The meal concluded with individual strawberry trifles (from Dinner Tonight).
Everybody loved all the food and I was absolutely thrilled with how well it translated from my recipes for a few up to 48 plus who came to the dinner. So thank you @cookbookfestiv1 (instagram)and @CookbookFestiv1 (twitter) where you will find more photos of the evening. Special thanks to my superb local butcher www.mackenbros.co.uk and www.thetomatostall.co.uk, aka Isle of Wight tomatoes stocked by www.natoora.co.uk, whose produce shone through; a tumble of tomatoes decorating the tables went home with many of the guests.
Wednesday
Schlepped into the sticky west end to see Europe by David Greig, well worth the grief of the crammed tube journey and wading through the heaving Leicester Square pavements. Late supper of a particularly good, well-packed club sandwich with a suitably big pile of very crisp frites, then trundled home on the very hot and still surprisingly busy tube.
Thursday
Busy day running around with no time to think about food, so bread and cheese for lunch and roast Cornish cod from the freezer (thank you Trelawney Fish in Newlyn; tel 01736 332043). I roasted a whole side with a generous squeeze of lemon juice and splash of olive oil, cooking sprays of cherry toms alongside. We ate far too much, delicious with peas – actually petits pois, also from the freezer. I know it's fresh pea season but this was another reach for the freezer supper and I love reliably sweet and tender petits pois while fresh peas can be little bullets.
Friday
Booked a table for lunch at the Chelsea Arts Club with sons Zach and Henry, inviting Henrietta Green to join us before artist friend Rose Hilton's Wake. We had a lovely lunch in the garden, exquisite roast octopus with chilli flakes and what they called wet socca Nicoise to start. It turned out to be a tender curl of bumpy octopus with a smear of hummus-like paste and a couple of very thin scraps of carta de musica-type wafer that did nothing to enhance the dish. I think socca and Nicoise refers to the Nicoise dish of little pizzas made with chickpea flour. Both the boys had not entirely successful chicken and ham pie with suet pastry, Henrietta another starter of beef carpaccio with pickled vegetables and shaved Parmesan, while I had an enticing sounding aubergine dish. Aubergine filled with wild rice and aubergine caviar with a pine nut crust turned out to be half a roasted aubergine with a dull filling and far too much chopped pine nuts that roasted dry and cloyed on the tongue like sawdust. We drank Provencal rose and listened to moving speeches about Rose's work and her life in Botallack with sons Bo and Fergus and husband Roger Hilton. The Barrister and I left for a house moving party and stayed for a buffet supper in the garden; shredded chicken and roast cherry tomatoes with champagne to toast the Darlings on their way to new home in Hampstead.
Saturday
Spent most of the day preparing the vegetables, making garlicky aioli and poaching a whole cod for Sunday lunch party le grand aioli; recipe next week. Lunch in the garden, grabbing what turned out to be the last of the really hot sun we've been enjoying. Lovely but slightly over-cooked barbecued mackerel and tomato salad with quickly pickled red onion. Delicious with lavishly buttered, very fresh Hedone brown bread. Dinner at the Chelsea Arts Club with best friend over from Sydney and The Barrister. Too chilly to eat outside but drank long and deep while tucking into that delicious octopus with hummus again, followed by thick slices of very pink roast duck breast piled over crunchy soy and sesame vegetables. They both had rib eye steak with creamed spinach topping (hold the peppercorn sauce) and hand cut chips. I rather wished I'd joined them. Tessa finished with a lovely gooseberry fool, chunky with crushed fruit. Time to make that again while the brief green gooseberry season lasts.
---
June 23 2019
Sunday
For the first time in ages, the fish kettle came down from its perch above the kitchen window, it's layer of grime scrubbed clean, ready to balance over two burners half filled with herby, acidulated water. There it simmered gently, poaching a splendid Cornish sea trout, its eyes sparkling brightly before they turned cloudy as it cooked. Sea trout from Cornwall is in season now, and mine was ordered specially from Newlyn by Johny, my Newlyn fishmonger at Covent Garden Fishmongers in Turnham Green Terrace. The poaching liquid – a classic mix of water, splash of white wine and white vinegar, a few bay leaves, sliced carrot, black peppercorns and parsley stalks with a few slices of lemon – simmered for 20 minutes before the cleaned, scaled and trimmed whole fish was lowered into the court bouillon, returned to simmer, simmered for 8 minutes then left to cool in the kettle. It was served tepid on a white platter, the skin peeled back to reveal its beautiful pale pink flesh. Instead of the usual mayo or hollandaise, I made broad bean tzatziki with creamy Neal's Yard yoghurt flavoured with lemon and olive oil but no garlic. Along with roughly grated cucumber and chopped mint, I added my first broad beans of the season, bought at huge expense from the occasional Kitchen Garden sale at Chiswick House. No potatoes this time but a dish of snappy, super-fine green beans.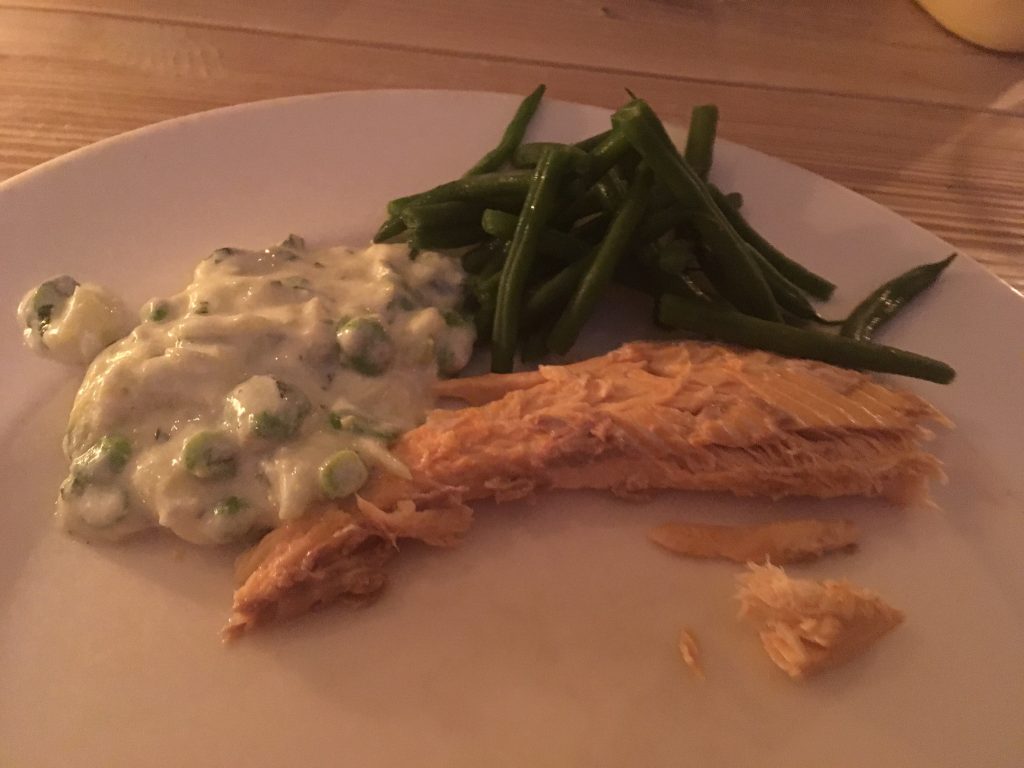 Monday
Monday is when I collect my two grandsons from school and give them supper. For some time, the two favourite meals are what Jago calls My (his) Soup and Pizza Express Margherita, the latter a treat (on the days when I can't be bothered to cook). Jago's Soup is actually a way of getting him to eat carrots and tomato, both grated into softened onion and crumbled sausage then simmered in stock. The secret ingredient is Heinz tomato ketchup although this time I made it with leftover roast tomato halves and omitted the squeeze of ketchup and it was voted the Best Ever. It looks like a sloppy risotto when it's finished, as it's stirred with separately boiled orzo, the rice shaped pasta. My supper, a Cricket Dinner at the Garrick in Covent Garden, was altogether more sophisticated: Montgomery Cheddar Souffle, herb-crusted rack of Devon Lamb with pea and broad beans a la Francaise followed by summer pud with elderflower syllabub. Another triumph from chef Clive Howe.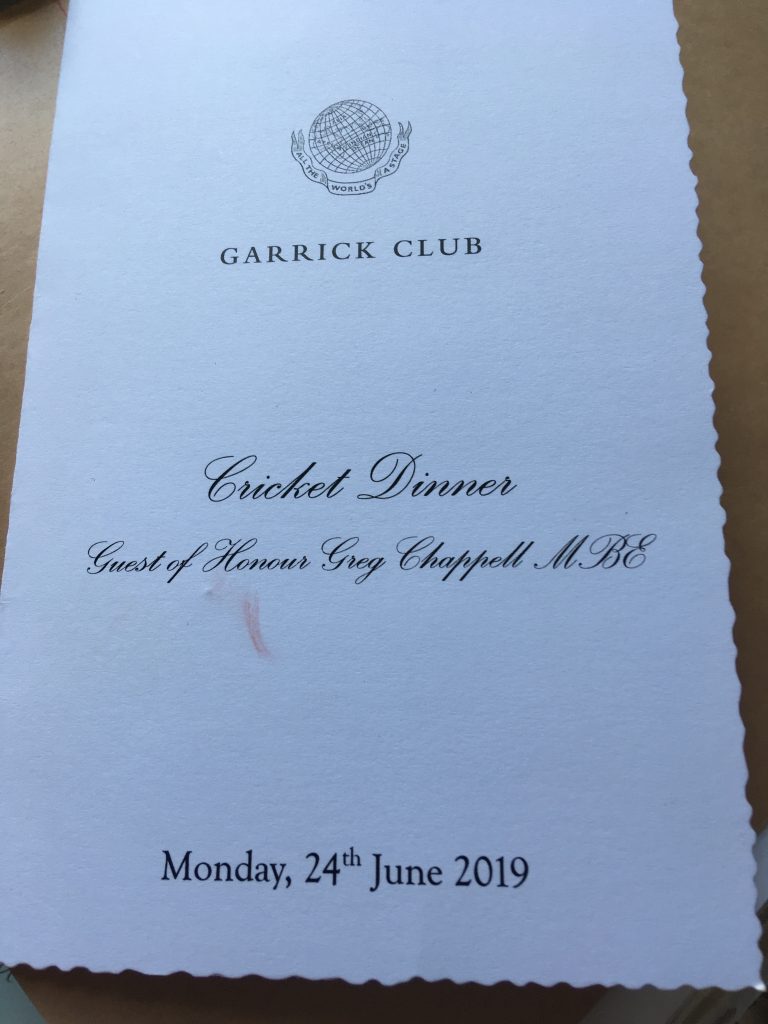 I couldn't believe my luck to be seated next to David Gower. He's a deeply impressive speaker (without notes and without mentioning the Tiger Moth jape that ended his career) and very charming with it.
Tuesday
I spent a happy morning flaking the rest of the salmon trout to make herby fish cakes (see Recipes). There was plenty of fish so they ended up big and plump, perfect for dipping in beaten egg and breadcrumbs to fry briefly, just until crisp and golden. To go with them I made a quick and simple pea puree with mint from the garden and full-fat, totally gorgeous Neal's Yard crème fraiche. The trick for this useful puree that suits being served cold, is lengthy liquidizing to break down the surprisingly fibrous skins.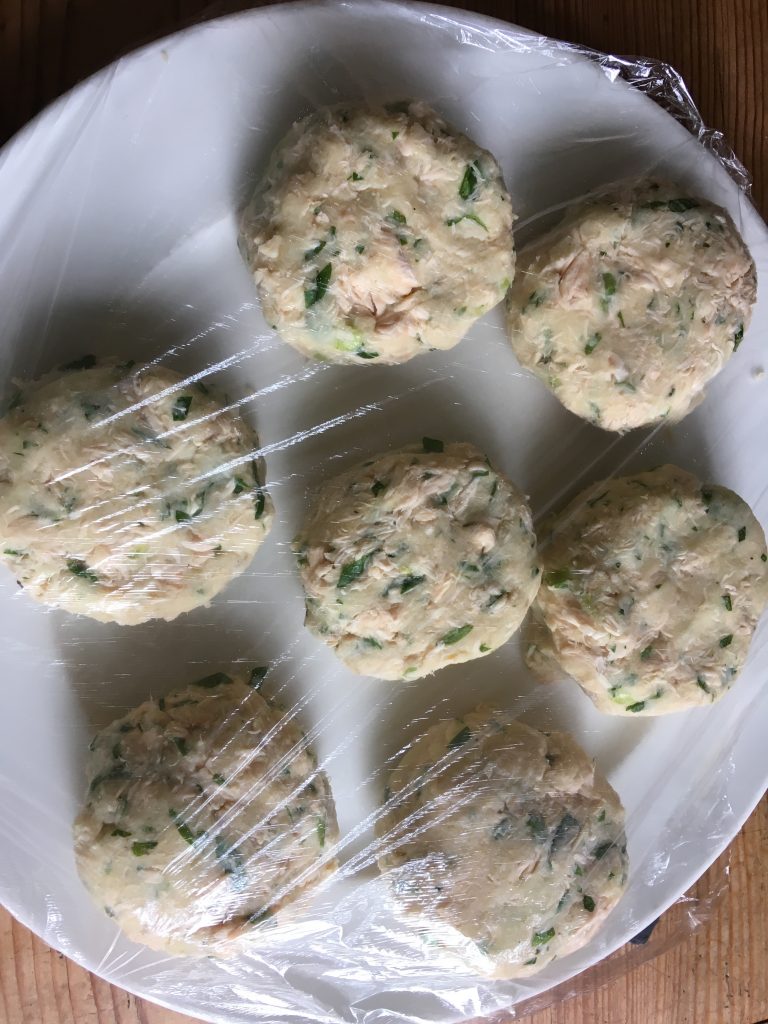 Wednesday
Lovely day out in Bath for a wedding celebration at www.whitehorsetwerton.co.uk. The whole pub was given over to the wedding feast; champagne in the pretty beer garden, the pub festooned with flowers echoing the colourful paintings that line the walls, tables hunker-munker with family and friends. This is my second visit to the White Horse (the landlord is The Barrister's cousin and it was his wedding) and the food has been special. The starter was a pretty sea bass ceviche with a gargantuan pancetta-wrapped guinea fowl supreme with pea and broad bean risotto and an amazing soft-yolked deep-fried crisp egg. Lemon tart with raspberry sorbet and berries for pud.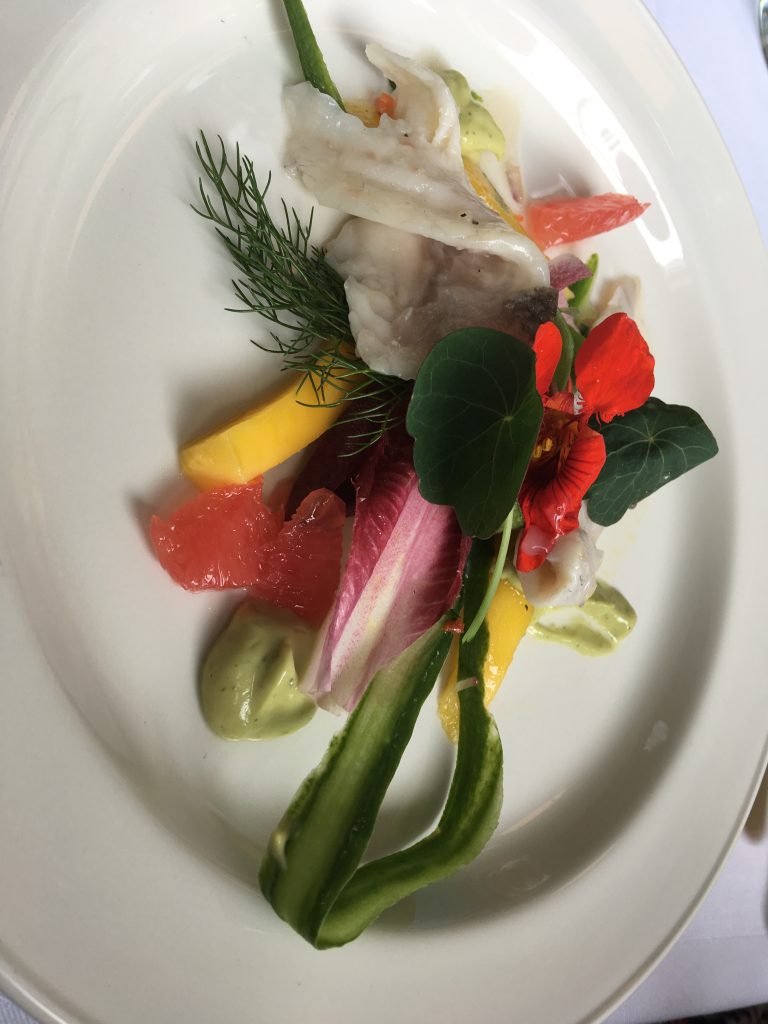 Thursday
Picked leaves from my flourishing vine to make dolmades (see Recipes) for eldest son's birthday. This lot were made with minced pork, dried oregano from Greece, lashings of coriander and Iranian green sultanas from much-loved recently re-opened Saffron (248 Kings Street near Ravenscourt Park, the Iranian food shop wiped out by mega burst pipes 18 months ago).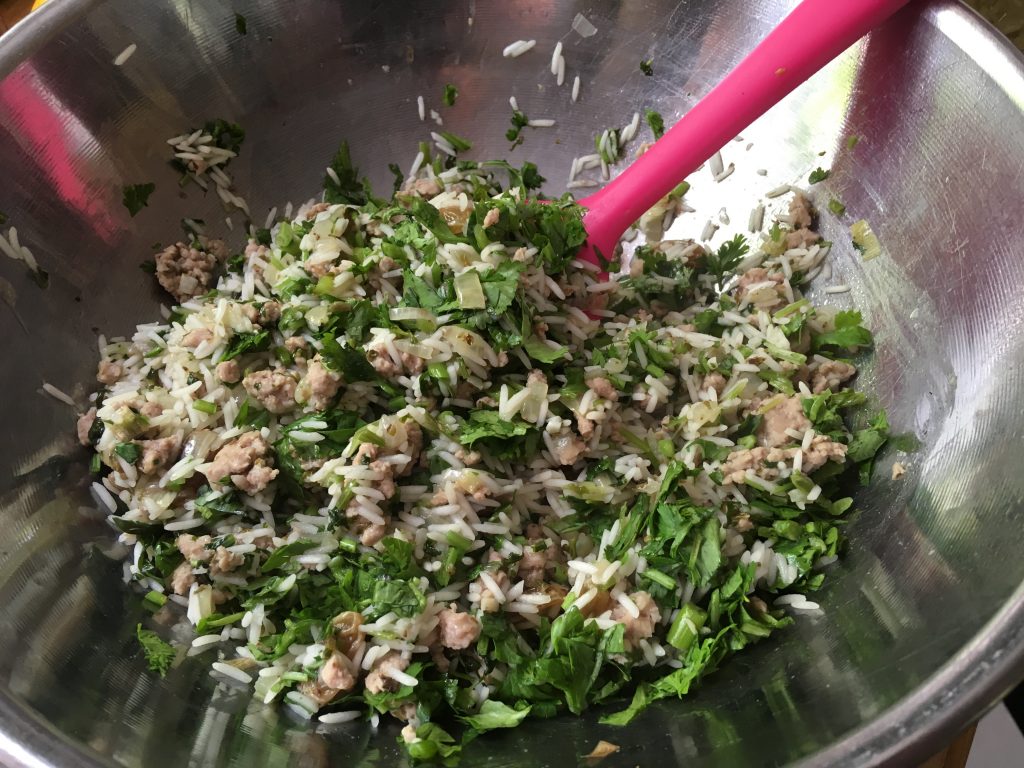 Joined an old friend for lunch in the gorgeous garden at Chelsea Arts Club. I stuck with the bargain Artists Menu: tomato and mozzarella slices with diced pickled red onion sprinkled over the top, followed by a light and elegant tomato tart over a slippery mess of sautéed oyster mushrooms, endive, rocket and parsley. Made chicken kebabs to cook on the barbecue for supper with a humungous crisp salad of heritage tomatoes, endive and John Hurd's proper watercress that comes in big beefy sprigs and a strong mustardy tang. New packaging though. It might protect the leaves more efficiently but severely reduces the amount you get.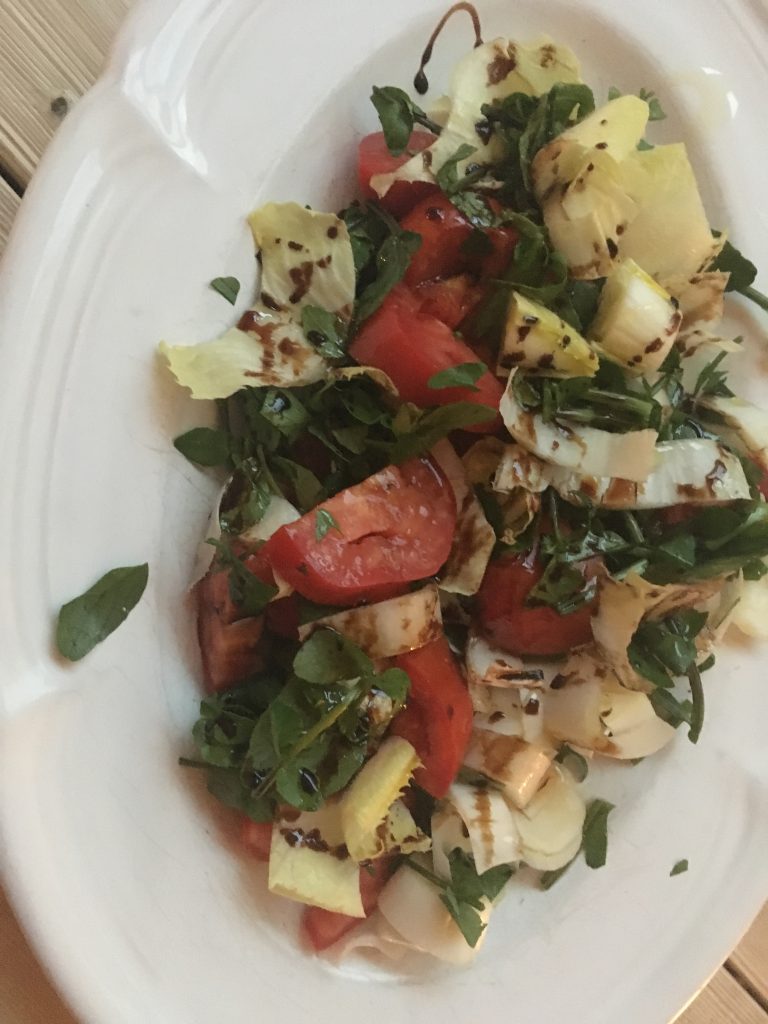 Friday
Finally managed to nail Rodney at Macken Brothers, my fantastic local butcher in Turnham Green, to arrange a trade account for charity dinner next week taking place around the corner from the shop and hosted by the dynamic www.cookbookfestival.org (this year's Festival 12-16 September; my dem is on Sat 14, around noon and I'm featuring sausages, with help from Rodney). I left with neatly trimmed pork fillet ear-marked for a bbq tonight. It was cut in smaller than usual kebab size pieces and marinated with lemon, olive oil, masses of crushed garlic and rosemary, served alongside meaty Italian sausages flavoured with fennel seed (an idea ear-marked for my dem and a Festival Sausage from Mackens). With a simple green salad of peas, Cos lettuce, quickly pickled cucumber and mint with creamy vinaigrette. This was the perfect end to a busy week. The Barrister ordered lobsters from Newlyn (www.fishforthought.co.uk) for a weekend treat.
Saturday
Usual breakfast of berries with a spectacular melon and strawberries from a pot in my miniscule front garden (see Writings/An Urban Veg Plot) and favourite creamy, live sheep's yoghurt (Woodlands) followed by an attack on the garden. The Barrister went food shopping and came back with freshly baked Hedone brown bread, home made Scotch eggs, another melon, and a big jar of el Navarrico Judion, lare Spanish butter beans. I turned the beans into salad with a mayo and Dijon mustard base, juicy chicory, more quickly pickled cucumber and finely chopped watercress. Delicious! We ate it with a jar of our favourite tuna (Ortiz Bonito del Norte) bathed in olive oil.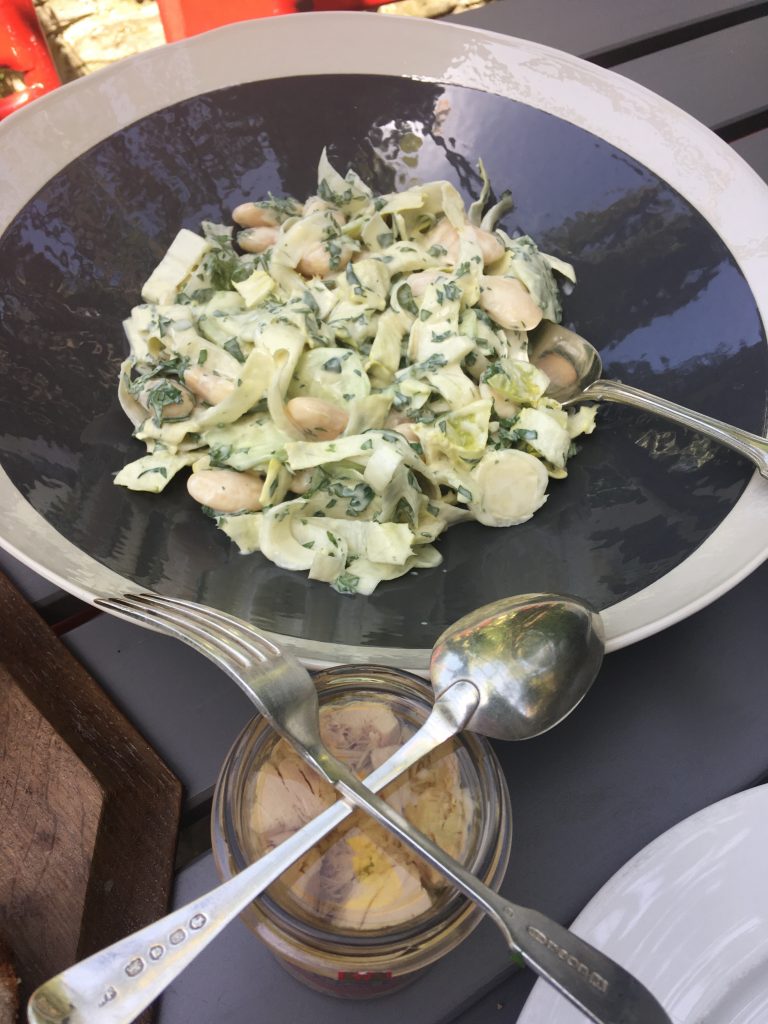 Dinner was lobster with mayo, jersey royals and another crisp green salad. Boy it was good but next time I won't forget to ask for the claws to be cracked.