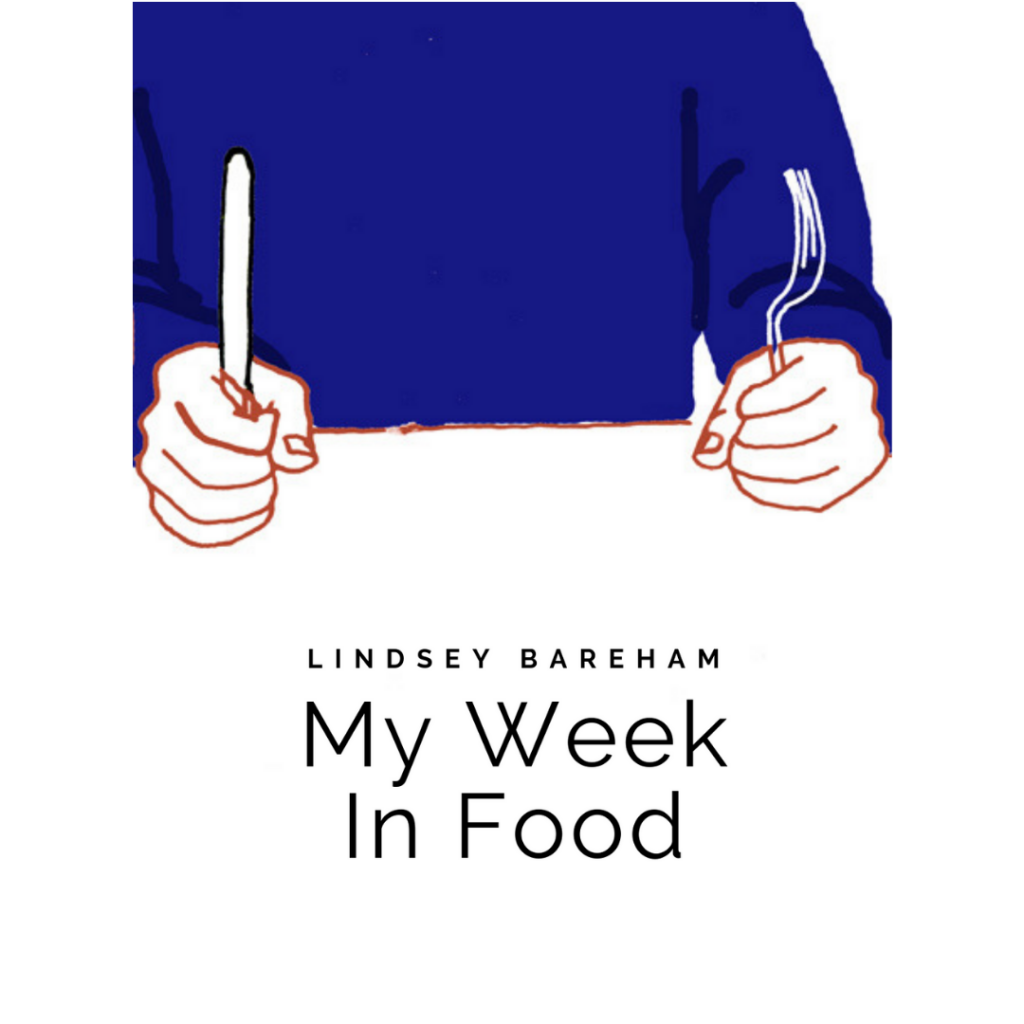 July 21
Sunday
All the work for the family bbq done, all I have to do is lay the table in the garden and thread the chicken onto kebab sticks. Now this should be a quick, painless episode but although I'd thought ahead and soaked wooden sticks, decided to use my ancient metal skewers, now tarnished with rust. Although scrubbed smooth, they are far from it but the worst thing is the blunt point so stabbing is tortuous. Definitely time for a new set. Everyone loves barbecued sausages and that's today's sidekick, so they need to be oiled. Fortunately nobody minds when they get a tad overdone, as they usually do, and they did today. All in all it was a feast; the pea, bean and watercress cous cous, top dollar tomato salad and tzatziki a winning combo. Very delicious English strawberries and almost chewy Italian vanilla ice cream were the perfect conclusion. I laid a bowl of caster sugar just in case anyone wanted 'a surface' on their strawberries as my mother always did and right on cue my brother Adam did. A pot of nduja winked at me from the fridge when it came to thoughts of supper and a generous spoonful stirred into simmering baked beans transformed poached eggs on toast for supper.

Monday
The Barristers cute and stunningly efficient little bbq was refuelled for lamb kebabs (neck fillet from March Farm, the brilliant butcher at Chiswick Farmers Market) marinated in a rosemary, garlic, lemon zest and olive oil then threaded on pre-soaked wooden skewers and eaten with leftover cous cous, tzatziki and tomato salad. I love barbecue meals, the only down side is the clearing up: soaking then scrubbing the rack and the inevitable spilling the ash.

Tuesday
Very excited to be seeing The Lehman Trilogy tonight. It's  on at the theatre opposite Zedel, so I met the Barrister there in the American Bar for a quick drink before what turned out to be a spellbinding performance.  Very good luck to almost literally bump into Jeremy King, the suave and elegant boss of the place. As we called for the bill, we discovered he'd already cancelled the tab.  We almost ran round the corner to  Bocca di Lupo for a late supper. Instead of taking up our table, we perched on high stools at the bar. I love bar eating and our quickly ordered food brought us a succession of delights. Melanzane alla parmigiana, bruschetta with sautéed bianchetti and best of all baccala – home salted cod creamed into garlicky deliciousness. If you get the chance, do see the play and do go to this consistently good restaurant. And remember Zedel too, so handy for every occasion.

Wednesday
Invited to dinner by friends of the Barrister who I met briefly ages ago. They love potatoes, specially Charlottes which they grow in their veg garden just outside Winchester (lucky devils; oh to have an allotment again). On one of the hottest nights of the summer, a welcome breeze blew through their airy riverside apartment and we feasted on boiled Charlottes smothered with creme fraiche topped with very good faux caviare. I first had this wonderful combo many years ago at a very chic, very big garden dinner in St Tropez (thank you Joseph Berkmann of Berkmann Wine Cellars). The meal started at 10.30 with champagne and cold little potatoes topped with creme fraiche and real caviare, followed with poached sea bass and sauce vierge. Both dishes have been a mainstay of my repertoire ever since. It was very touching to be served my own food and I'm pleased to say everything, including the rich and robust chicken cooked in vinegar that followed, went down very well with all of us.
Thursday
The Barrister and I are catching an early Eurostar tomorrow, so this morning I did a huge fridge clear out to take with me when I deliver my lurcher Red to her doggy friend Wilbur for her summer holidays. The pride and joy of the food parcel, though, was picking two big handfuls of skinny French beans from the front garden. I'd planted a dozen plants and they're all flourishing, climbing up and over their climbing frame escaping over the magnolia and olive tree. The latter was a gift from Sacla, the pesto people, in their early days, when pesto was a foreign word and we didn't know how it was going to change our eating habits. The basil too, planted in an old window box, is growing wildly so I'll soon be making my own pesto; a lovely gift to take to friends.

I was starving when I got back from the dog drop and fell on two thick slices of pugliese bread toasted from frozen and slathered with the last of Sunday's seriously squidgy Gorgonzola.

Our holiday really began with dinner at Parsons, an absolute gem of a restaurant in Covent Garden. I remember the premises from my restaurant days as Diana's Diner but the makeover is a transformation, with tables outside too. the meal began with their very good bread smeared with extraordinarily good anchovy purée. It has the texture of molten, dark chocolate sauce with hints of vinegar and tomato ketchup, a terrific balance of sweet, sour, salty, creamy and fishy. The Barrister starter of frito misto to start was a generous mound of perfectly crisp crumbed, deep fried seafood. My salmon tartare with Bloody Mary jelly was a triumph of two elongated mounds of finely chopped, creamy salmon topped with soft blobs of the jelly sliding off the mounds. My goodness this was good. We shared a plump, big plaice, roasted head-off, burnished and smeared with a lemony hollandaise with hints of chives. It was easy to lift off the fillets, then the bone, to reveal the two underneath fillets and plenty of sauce to moisten the perfectly cooked fish. Great chips and one of the finest lettuce salads ever known to man. Apart from a very elegant vinaigrette, the lettuce had been taken apart, trimmed and then reassembled in the bowl. Class.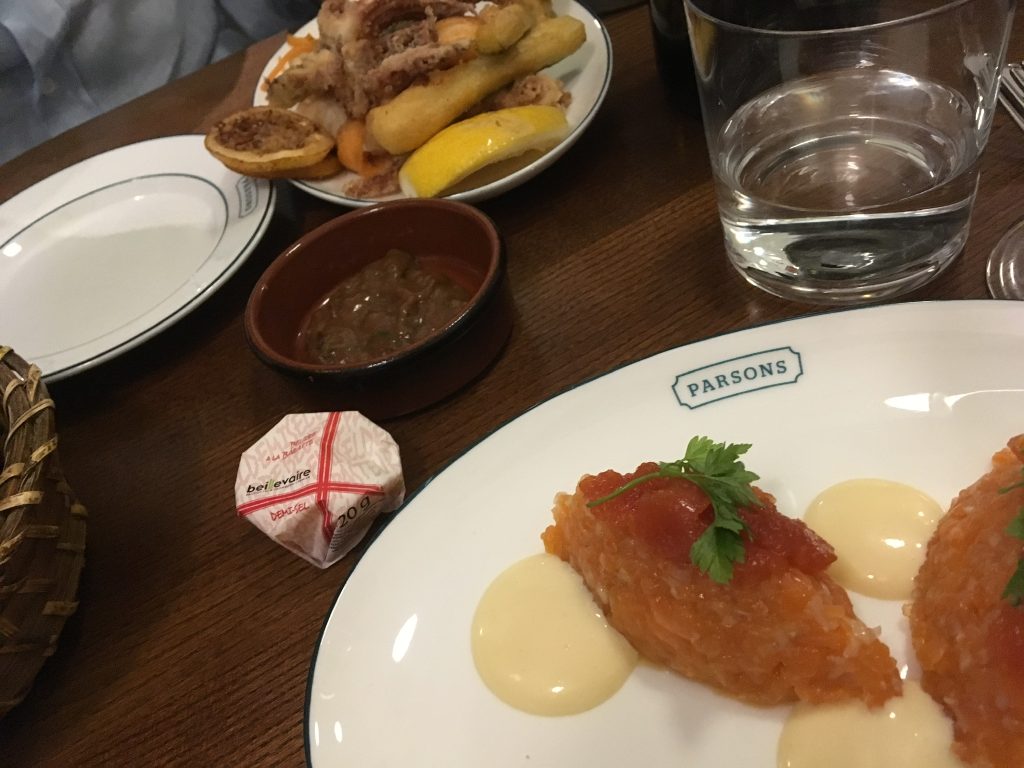 Friday
Breakfast on Eurostar. A rather good croissant with butter and jam. Mucky people like me dunk it in their (also good) coffee. Lunch (which seemed to arrive about 10 minutes later) was one of those non-specific chicken dishes with a bland, creamy sauce but nudged next to it was a big wedge of very good pomes Dauphinoise. Pud was an above average apricot Frangipane tart with a blob of something creamy. Dinner outside in the courtyard of our lovely hotel in Avignon. We both had tender medallions of lamb with two poached banana shallots, pats of truffle flecked butter and a pool of potato purée with meat jus. With it we had extraordinary courgettes cut in big batons, dipped in batter, deep fried and served 'planted' in a bowl of toasted sesame seeds. what a joy it is to be back in France.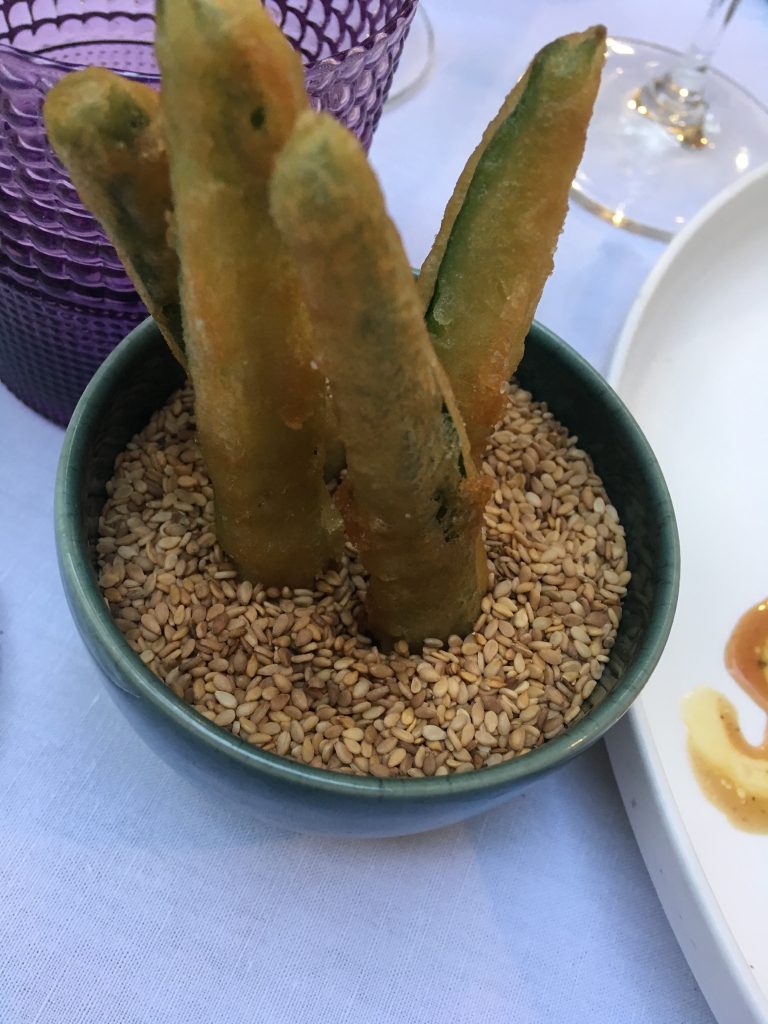 Saturday
Up in good time for the classic French hotel buffet; a splendid display of several bowls and platters of all seasonal fruit, tiny little croissant, freshly baked, crusty bread, plenty of tempting pastries, the option for eggs every which way, not to mention a buffet of charcuterie and cheeses. And very, very good cafe creme. Wandering around Avignon was a joy, so many good shops of all types but no food buying for us. Yet. An early lunch at a cafe with tables spilling onto the square in front of it was a ringside seat for the stream of theatrical troupe who stopped, performed and handed out flyers for their shows later that night at the town's equivalent of the Edinburgh Festival.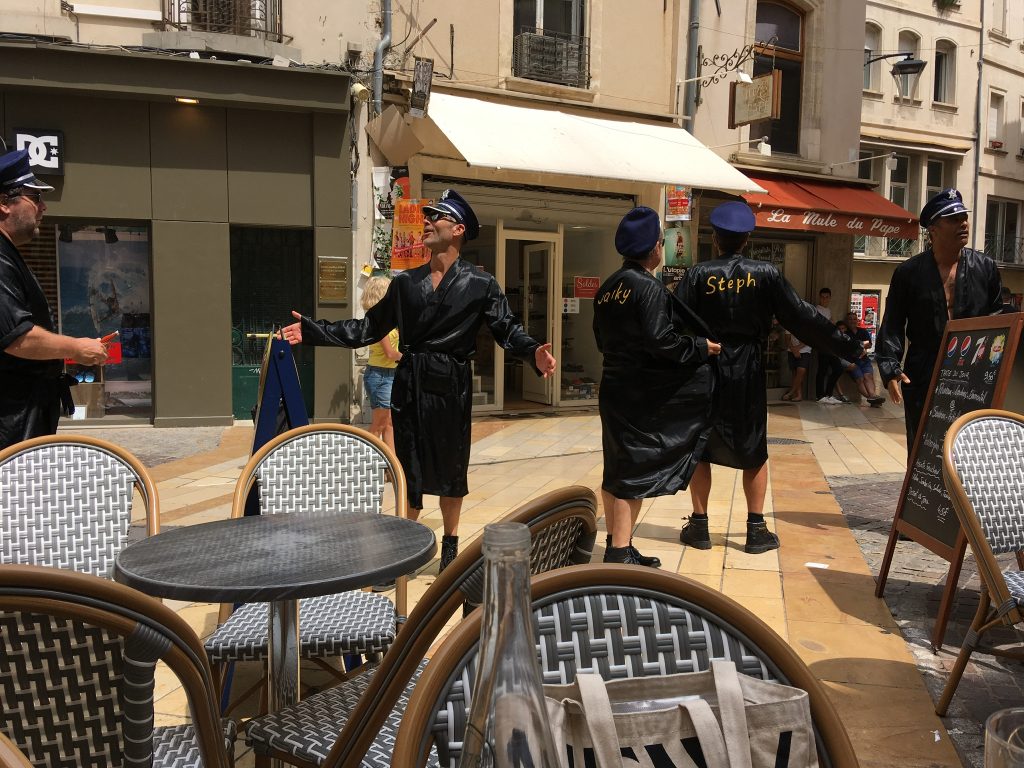 We tucked into a freshly made Salade Nicoise, resisting the crusty flute as best we could. Next up was collect the hire car and head for The Big Shop. I've been looking forward to this moment and the B and I had our list ready, divvying up the who gets what and loving every moment. French supermarkets are very tempting places and I daren't tell you what the bill was. I popped a couple of veal chops and handful of slim, small carrots in my trolley for supper and my what a treat they both turned out to be. I cannot remember eating such tasty carrots; childhood carrot flavour. Must buy more.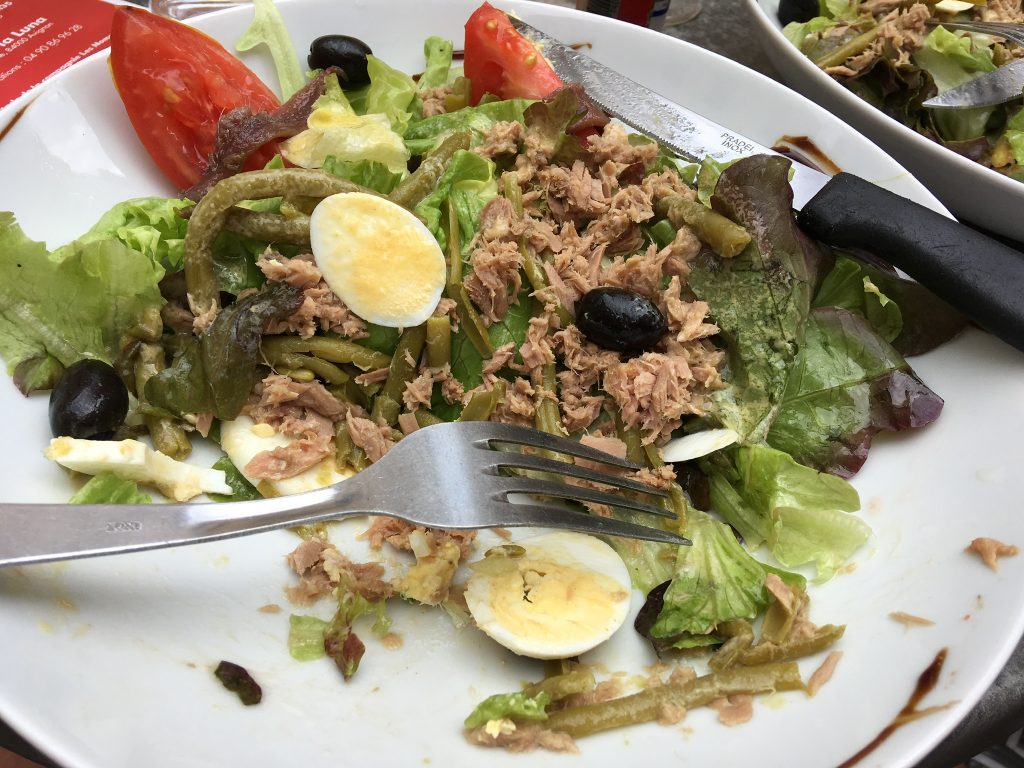 JULY 14 2019
Sunday
Lunch at Harry's (aka Giannakaros Traditional Fish Tavern) on the beach at Thanos, Lemnos, is as good as ever. Harry jumped ship to the family's other restaurant at Kontias (more later) some years ago and younger brother Peter keeps the same high standards. While Harry's son and daughter run Kontias, Peter's daughter is a great asset here, working the tables with other relatives and friendly young folk. I think they serve the best food I've ever eaten in Greece and it's part of the reason why Tessa and I have been coming back to Lemnos for so many years. Today we have the best ever zucchini frites, the long slices cut on the slant, quickly dipped in flour and deep fried to crisp, crusty perfection.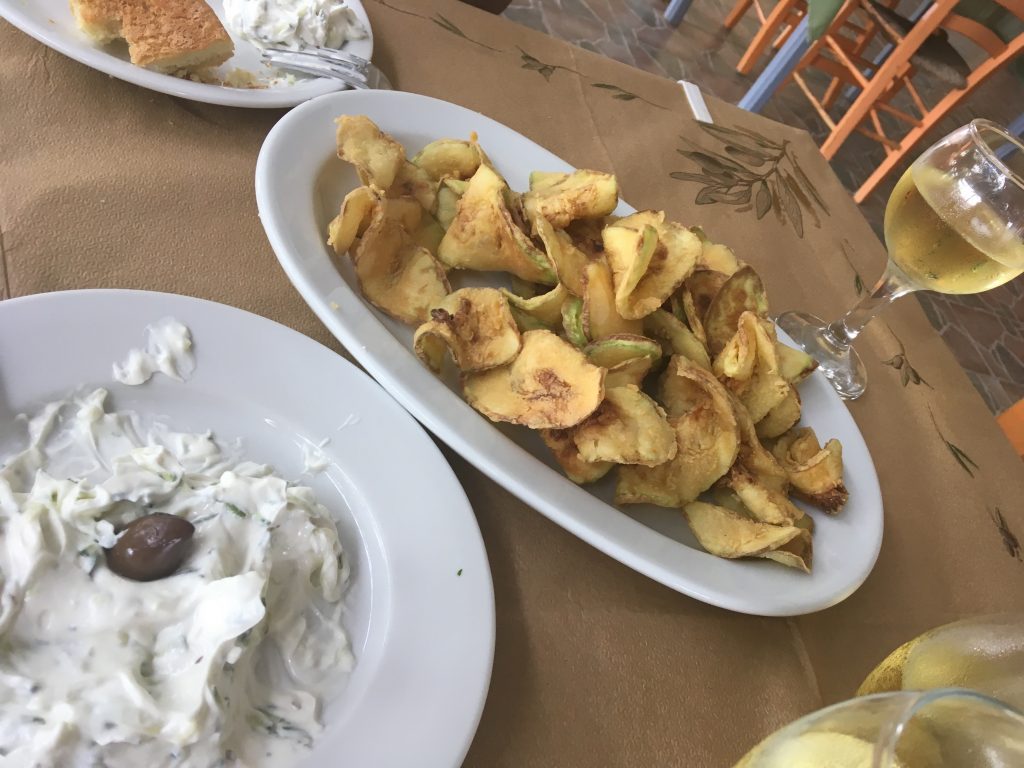 I just love to roll them around a goodly dollop of Harry's equally superb tzatziki, made with very rich and thick local yoghurt. Today's Greek salad is also exceptional and the oil that anoints it is peppery yet creamy.
Tessa has also reached perfection with her negronis. Today I discover they are shaken over ice in a baby's bottle (without teat) left behind by a previous guest.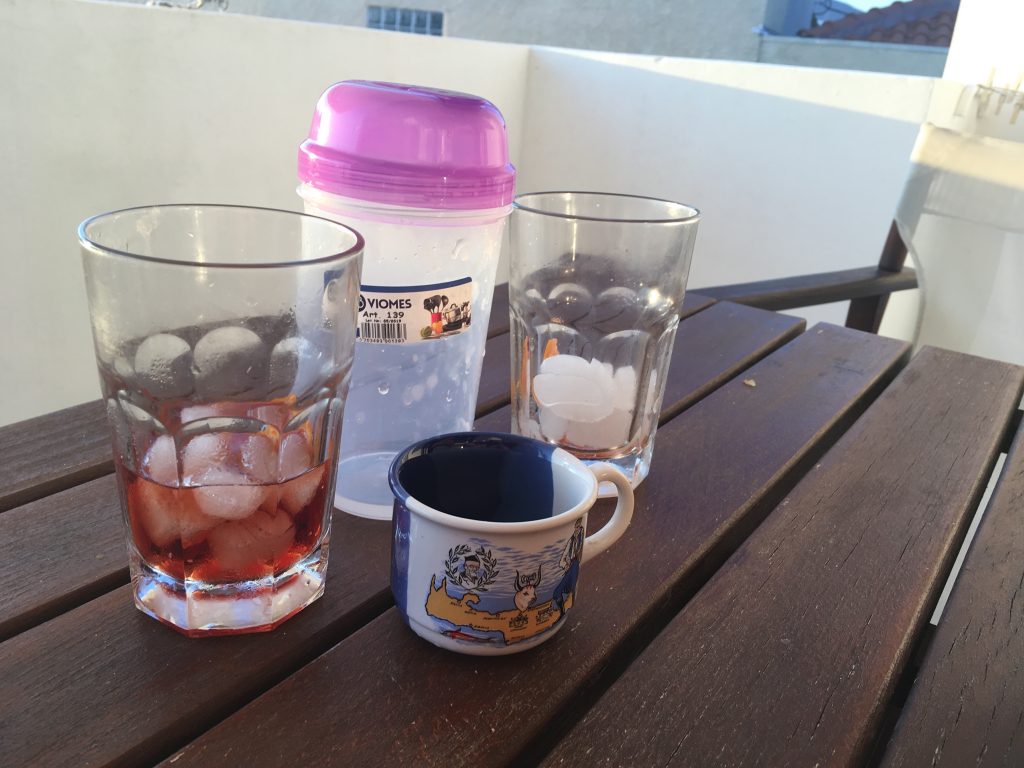 We make our way to our usual table at our favourite Myrina (old) harbour-side Café. A space has been cleared at the centre of the café area, a big buffet set up on a long trestle table outside two of the cafes. There are tall, elaborate white flower displays everywhere. Greek music begins and first two then more women form a circle and delight us with their Greek dancing. Eventually there are a dozen or so dancers and they dance and dance and we applaud. A few men join in and later the men take over, their dance far more of a leg twister, showing deft little steps and turns. We assumed the festivities were for a wedding but a random man who briefly joins our table explains that it is a Christening party.
On our way to supper, I'd noticed a row of thick, long, dark reddy-brown sausages hanging in a thick fridge on a rail behind the huge plate glass window of the butcher.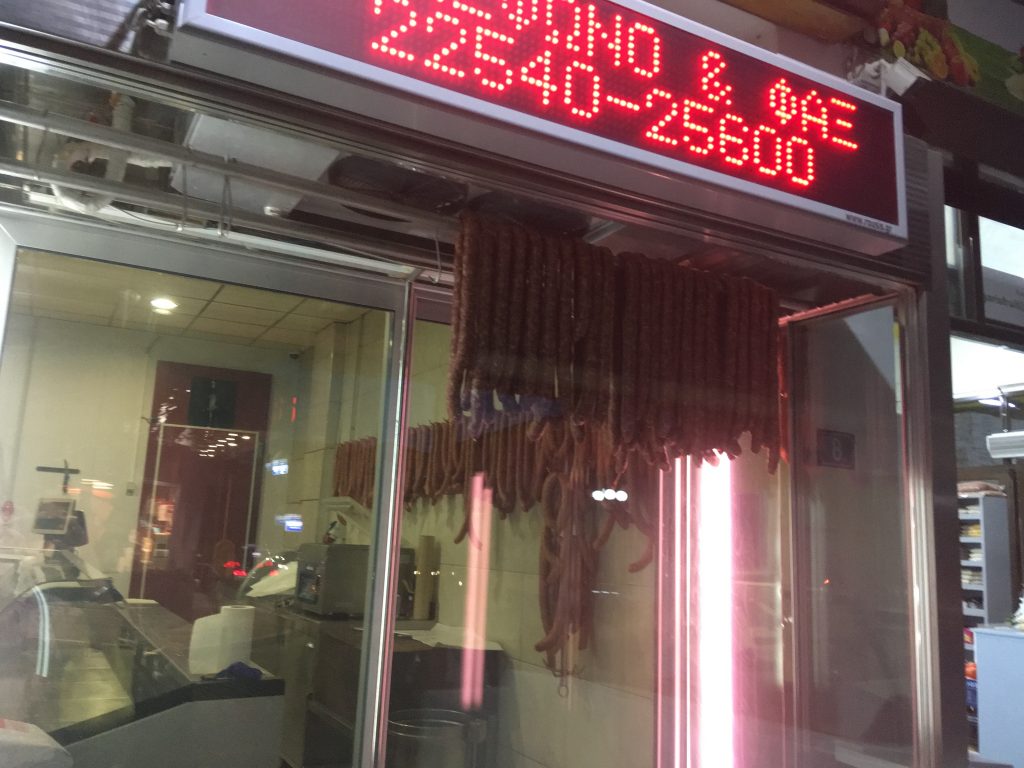 It prompts me to suggest sausages for supper and they arrive, similarly dark in colour and split lengthways, arriving with scorch marks from the barbecue. We treat ourselves to chips – Greek chips remind me of my mums; probably fried to order in a frying pan rather than a chipper. The potatoes are dense and waxy, the flavour how potatoes used to taste. I wanted to try their aubergine salad; it's not a salad at all but here a lumpy roast aubergine puree laced with pieces of roasted red pepper and tomato and a spicy back taste. We pile it onto the crusts of our golden bread.
Tuesday
I order aubergine salad at Harry's and his version is smoother, more like Lebanese moutabal and turns out to be a lovely, creamy relish to smear over grilled calamari. We eat another particularly good Greek salad. Yes, we have one every day and everything about it; the flavour of the tomatoes, crisp slivers of onion and juicy pale green pepper with chunks of peeled cucumber, slabs of creamy feta and big, meaty black olives is perfection. The dressing is just vinegar and their peppery, fruity olive oil. I will miss it
Dinner at the preferred harbour-side Café is another lobster and spaghetti. This lobster is smaller than our first one but cooked very quickly, the meat succulent and moist. There seemed slightly less pasta too, again licked with fruity olive oil, scraps of tomato and pepper, the juices congregating under the carapace. We ate the lot. We hoped Efi's shop (part bakery, part cheese and winery) would still be open so we could chose from her piles of mini chocolate ice cream lollies. We were too late, so no pudding tonight.
Wednesday
Can't believe our week in Lemnos is nearly over but breakfast is another brilliant spinach pastry from the bakery. This time a small coil of very crisp warka-like pastry and not too much of it. 7/10.
The penultimate lunch at Harry's is deep fried aubergine slices with skordalia, the latter so smooth and silky; never has cold mashed potato tasted so good and the perfect foil to searingly hot, crisp aubergine, the inside buttery soft. Mussels are served on the half shell like oysters, big, plump and luscious, very orange and very meaty, requiring a very firm shove to edge them from the shell.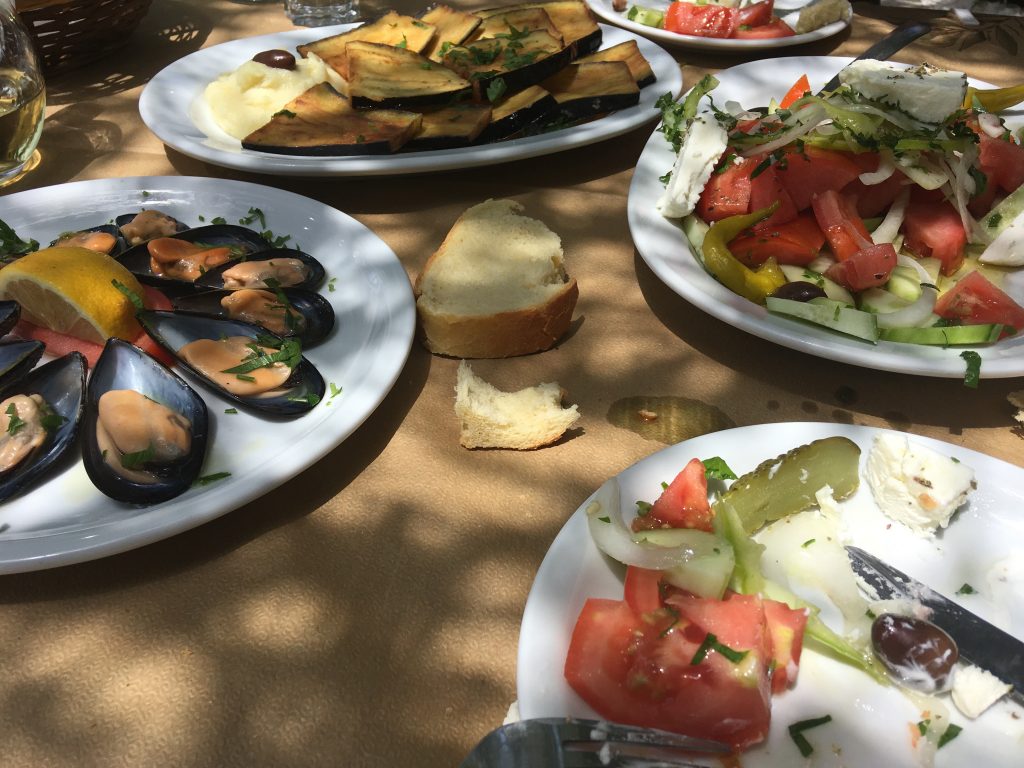 A quick negroni then off we go to meet Annette, our super-fixer whose real job is greeter and fixer for Sunvil who have many and many different holiday rooms on the island. She drives us across and up the island to Kontias. All along the water's edge of the low lapping sea, a deep pavement is set with poly-walled extensions of the restaurants across the road that leads to a rough and ready car park where we park. On one corner, with the two road-side walls/windows folded back so the front of the restaurant is virtually open, is Harry's other restaurant. It was set up, I suspect, for his children and both son and daughter run the place with waiters we recognise from years ago at the Thanos restaurant. We order white wine and water and settle down to make our choices. I couldn't resist ordered taramasalata which arrived that bright, lurid salmon pink colour that Jonathan Meades, in his days as Tatler's feature's editor, mused might be made in a vast vat in some underground kitchen to supply all London's Greek restaurants. Anyway, it was the weak link in a wonderful meal. The portions, as always, were huge and although we ordered one of everything, there was far too much food. Their so-called aubergine salad was the best yet. Sloppy and soft strands of barbecued aubergine were obviously pounded by hand with what I think was grated carrot. The highlight, though, was lettuce salad. A first for us; a crisp lettuce shredded with thin strips of cucumber and very good vinaigrette. Chicken kebabs, very well done burgers (tasting far better than they looked) and exceptionally good pork fillet that must have been marinated and was beautifully cooked so the surface was crusty and salty, the meat tender and falling in shards liked pulled long-roast pork. All the meat came with chips, the burger (three) also came with rice. Both Alexandra and her brother recognised us and there was much hugging and sadness over the death of their father. Back home to a couple of mini choc ice cream lollies from the bakery which were stashed in my freezer.
Thursday
The bakery excelled itself this morning. On our way back from buying three lovely pink plants for Efi and Kosta's garden, we popped into the bakery and chose tiny, very crisp, filo-type pastry spinach triangles.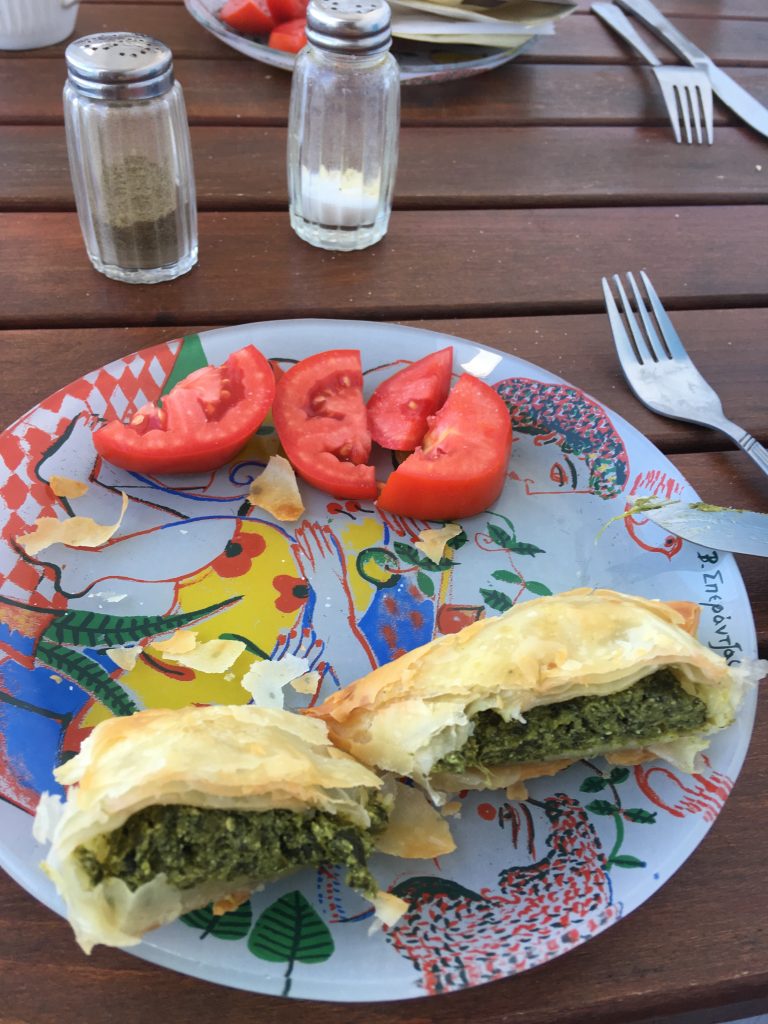 The best yet; 8/10. I excelled with my boiled egg technique – egg into cold water in a Greek coffee pot, brought quickly to the boil and boiled for 2 minutes. Bingo: for the first time, I achieved a soft-boiled egg, eaten with a crust of toast (no butter). Lemnos eggs have golden yolks and a rich flavour.
For our last morning, we are up and packed, ready for the beach at 9.30. Our final Harry lunch is early but the Taverna is surprisingly busy. We have large barbecued prawns, the heads intact but the body peeled. Strange but they tasted superb, juicy and bathed in lemon and olive oil. Along with the inevitable Greek salad, we also had sticks of local soft goat cheese dipped in batter, deep fried and doused in local honey with a sesame seed garnish. As usual we ordered far too much. Just time for a last sea dip and walk along the gorgeous beach and there was Andonis in his taxi ready to whip us back to our rooms and final showers and goodbyes.
I arrive back home at 8.30 (10.30 Greek time) and the Barrister has champagne on ice and two huge veal chops for supper. He griddles them to perfection (oil the meat not the griddle I hear myself blurting) and we devour them with sweet and mealy little petits pois from a can.
Friday
Spend the day faffing around, completely out of sync with the day (Greece is two hours ahead) and trying not to eat because I've had such a greedy holiday. I fail miserably, caving into a late lunch of cheese on toast with a few cherry tomatoes. Dinner is with friends at the Garrick. Soothing Vichysoisse and perfectly cooked cold salmon with a young leaf salad for the Barrister and exceptional tranche of turbot for me.
Saturday
Spend the morning preparing food for a barbecue lunch tomorrow. My brother Adam and his wife Rosie are just back from Switzerland and there is much to celebrate. My niece Kit has just got a first in her law degree (in German!) and nephew Fred, our musical genius, has a scholarship to the Guildhall School of Music and Drama. My menu is simple and get ahead: chicken kebabs in a ginger, garlic, lime and olive oil marinade, big, meaty Cumberland pork sausages (from sausage maestro www.mackenbros.co.uk), a cous cous salad with peas (actually petits pois from the freezer) and French beans from the flourishing plants in the front garden. With finely chopped watercress to give the salad 'bite' and 'pretty' (I like this American expression, picked up years ago from one of Elizabeth David's essays), it was a triumph of flavours and textures.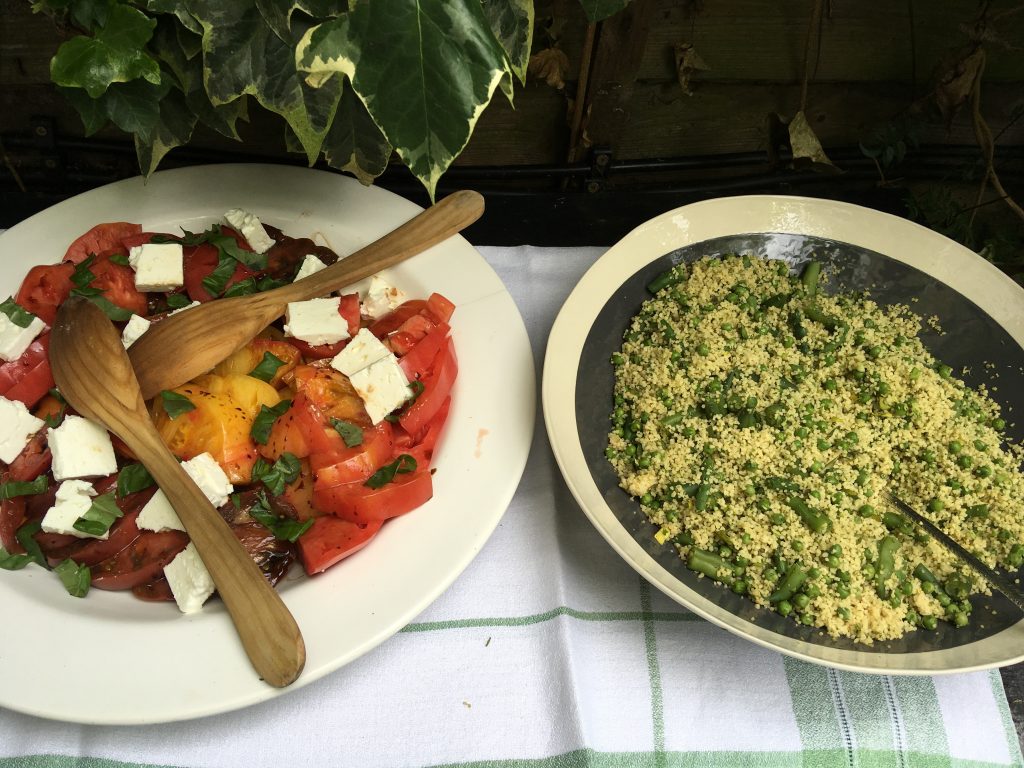 I also made tzatziki with disappointingly runny Neal's Yard Greek yoghurt. The flavour was good; I whipped lemon juice and fruity olive oil with crushed garlic into the yoghurt, with grated, seeded, peeled cucumber and mint from the garden. I stashed it in a poly box, hoping it would thicken. It didn't.
The Barrister bought a net of mussels for lunch (www.coventgardenfishmonger.co.uk). The glossy black shells streaked with brown but blessedly clean, just needing their beards pulled and a thorough wash in several changes of water. There were a few cracked shells but not many. I cooked them simply in finely chopped onion and garlic, softened in olive oil with a generous splash of leftover white wine and a finale of chopped flat leaf parsley. My they were good, the juices mopped up with particularly good ciabatta, the so-called slipper bread popped in the oven to crisp up the thin crust and warm the soft, holey dough. Yum.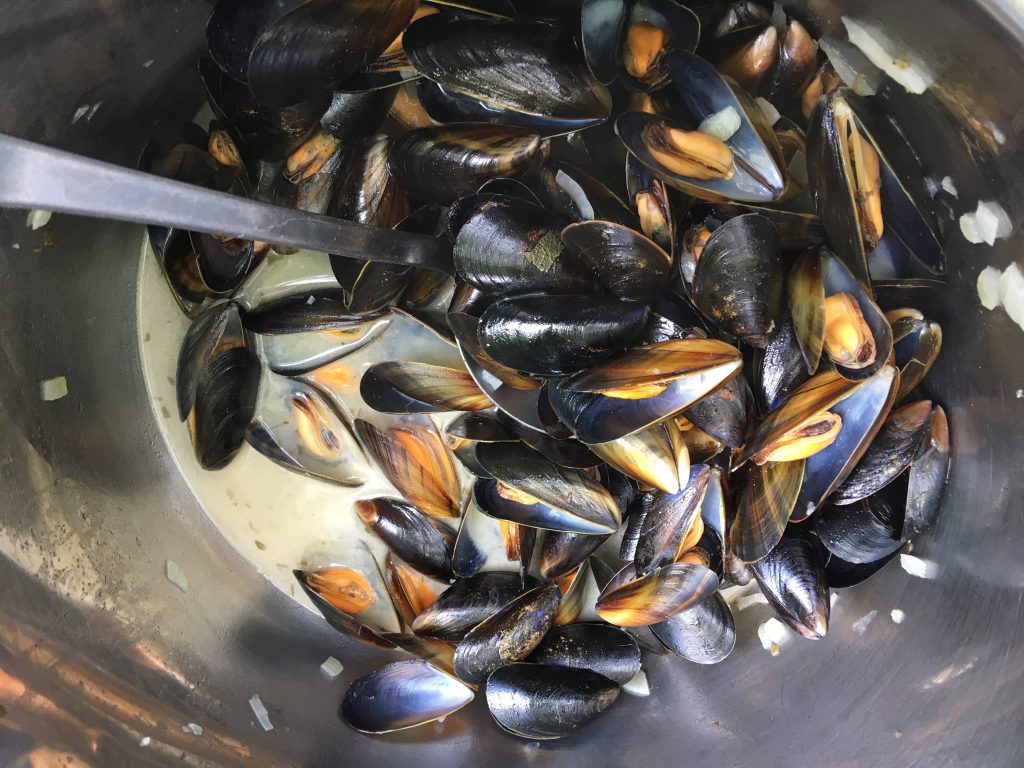 A lovely lazy supper of cheese omelette; seven eggs lightly beaten with a generous handful of mature Emmental (there's a Swiss theme today), quickly rumbled in my favourite blackened steel frying pan then lavished with grated Parmesan, loosely folded and popped under the grill for a nano second. I served it with masses of chives to give that cheese and onion flavour that always works so well. Leftover tomato salad went perfectly with this.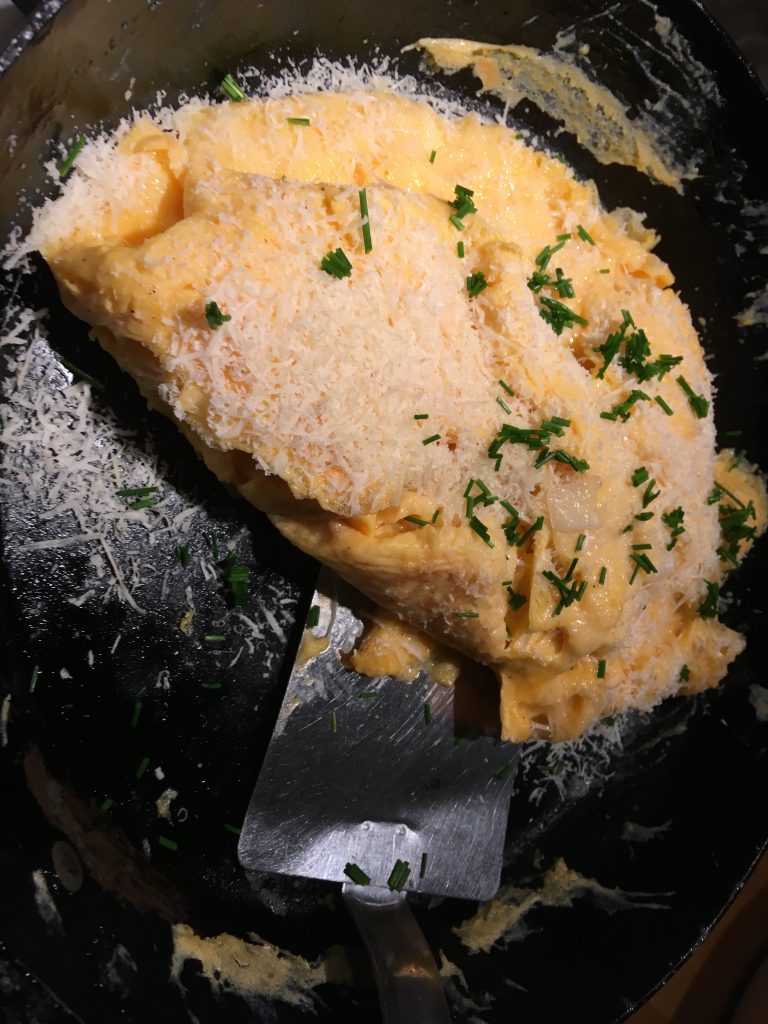 JULY 7 2019
Sunday
All week I've been segueing left at the car park entrance to Chiswick House to visit the horses and hens at Giffords Circus (www.GIFFORDSCIRCUS.COM for latest location details), recently arrived and set up in two huge meadows adjacent to Chiswick House.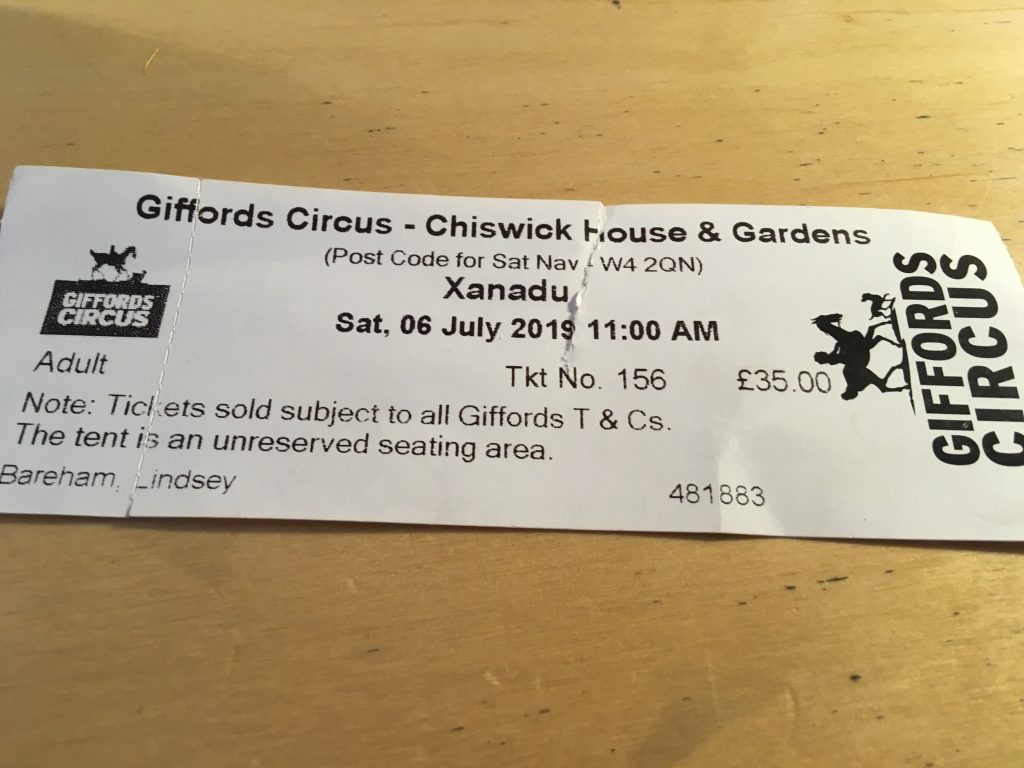 I love this charming old-fashioned circus run by Nell Gifford and this morning we have tickets for the 11am show. This is the fifth year running for me and the theme is Sixties-inspired and called Xanadu. Afterwards, it's straight back to my house where the Barrister and I have eight for lunch. Before we set off, I check I have everything organised for le grand aioli and the gazpacho is thoroughly chilled.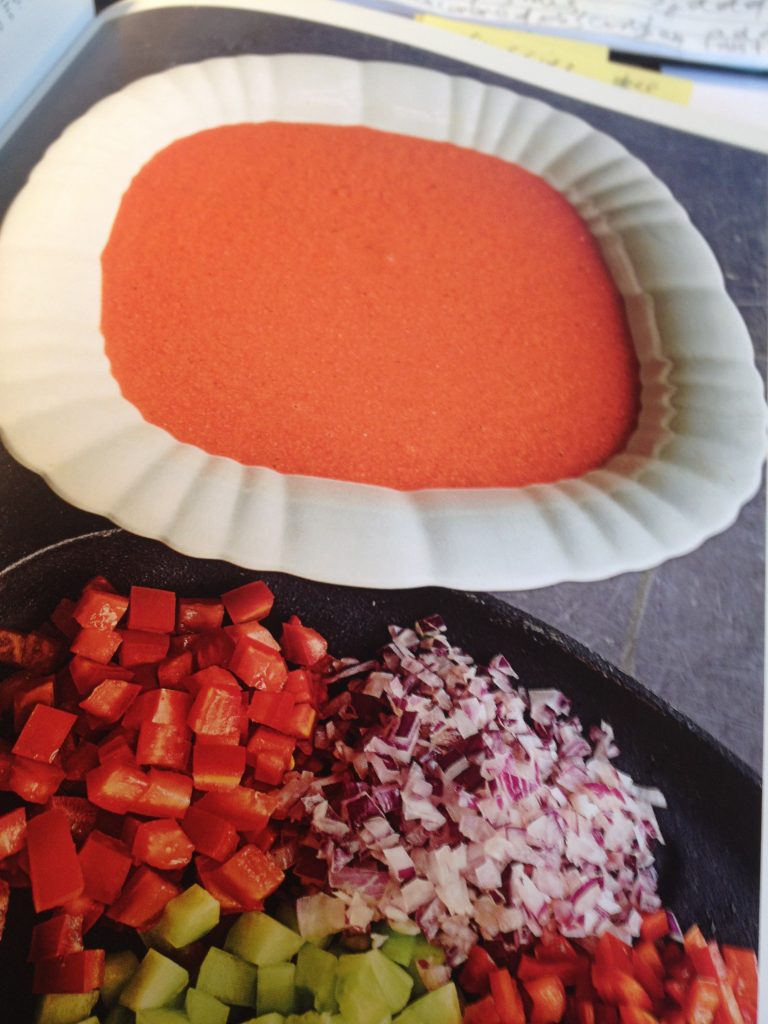 My plan is to cover the scraped and boiled new potatoes in boiling water for 20 minutes or so when we get back, so they are hot, otherwise everything is pre-boiled and cold. Hard-boiled eggs, cauli florets, green beans, asparagus tips, peas, baby fennel, carrots and spring onions all in poly boxes in the fridge next to the aioli and winkles, the cod poached and peeled and waiting under foil in a cool spot in the kitchen. There's a lot of advance preparation for this lovely feast but it can be set out buffet style for self service or dishing up to suit what everyone wants.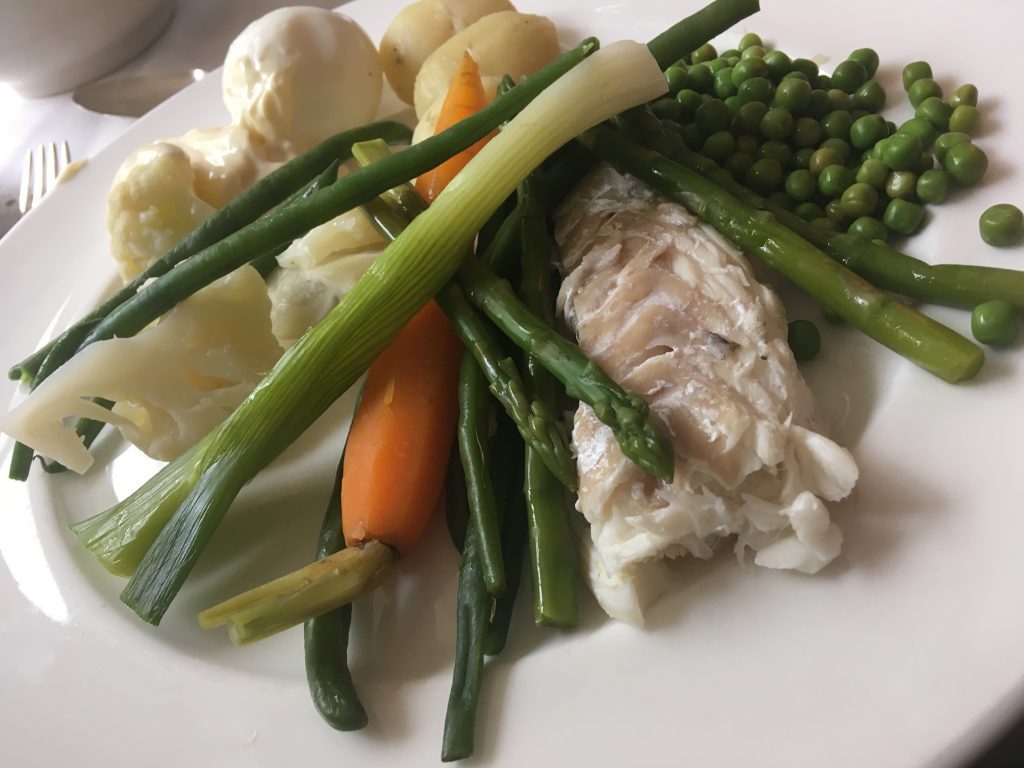 I'd laid the table in the kitchen as the weather was a bit dodgy, but by the time we were back from the (highly recommended, very fun and deeply, wonderfully eccentric) circus, the sun was almost out. We had all the doors open and a lovely breeze wafted through as the Whispering Angel was poured. The gazpacho was thick and refreshing, rich and creamy with a splash of delectable lemon-infused Colonna Granverde olive oil (thank you www.oilmerchant.co.uk) to enrich the Isle of Wight tomatoes (www.thetomatostall.co.uk), pointy red peppers, chilli and cucumber with white sourdough breadcrumbs. The salad soup was at its finest. The Barrister prepared a superb cheese board on his new pride and joy, a replica of his childhood mouse-edged dark wooden cheese board (the original still going strong at his mother's house), tracked down via an internet auction. We had a selection of Peter's Yard crispbreads with the cheese (biscuits, cheese and bread from www.bayley-sage.co.uk), with strawberries and Neal's Yard Greek yoghurt to finish. It wasn't until later that night, when the clearing up was done and the leftovers stashed, that I realized I'd forgotten the winkles. And all the time, the cork I'd prepared with pins for winkling was staring at me from the window ledge.
Monday
Lunch was a delicious leftovers triumph, veg, egg and aioli, the fish dispatched last night with son Henry for his dog Arrow suffering digestive problems.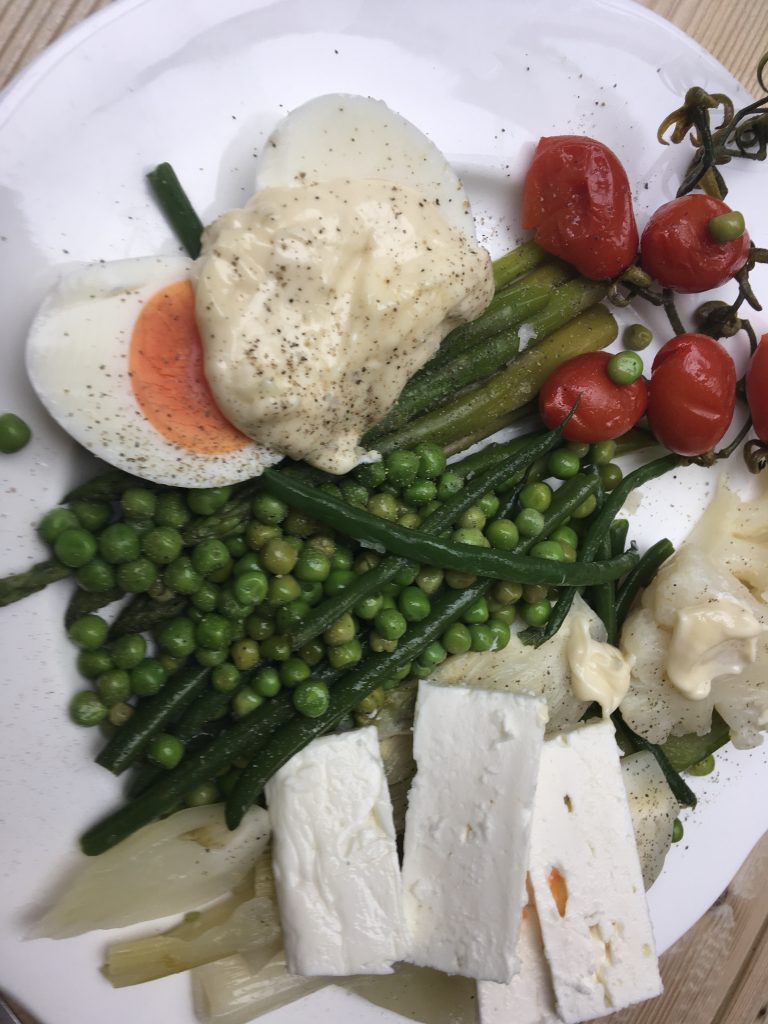 The Barrister treated us to supper at Vinoteca (www.vinoteca.co.uk/locations/chiswick), one of my favourite local places. I remember it as an electrical repair shop when I first moved to this part of Chiswick. The B maxed out on their famously good bavette steak and chips with horseradish and rocket, while I had more fish, this time hake with borlotti beans and al dente slices of courgette. The fish skin was crisp and too good to leave, the flesh flaking into silky, slippery pieces.
Tuesday
Today I'm flying to Greece with my friend Tessa, to re live our many holidays over the years together in Lemnos. We breakfasted on Bloody Mary's and a shared smoked salmon and egg mayo open sandwich at the Caviar House Prunier counter at Heathrow. It came with half a lemon knotted in muslin, a rather forgotten old trick to catch the pips; these days we copy the Naked Chef Jamie Oliver's way of using one hand to squeeze, while catching the pips in the other held beneath it. Lunch on board our Aegean flight was one of the best in-flight meals I've ever had; tender chunks of chicken and extremely tasty potato in a lemon and olive oil sauce/cum dressing. Also in the tray was a mound of whipped feta looking exactly like meringue with a black olive in the middle and scraps of red pepper; a sort of deconstructed Greek salad. A strange bread roll nestled next to a foil-covered triangle of soft cheese spread, the sort we used to squeeze directly into the mouth on childhood picnics. Needless to say, that's exactly what I did. Two pieces of pale Turkish delight for pud and two different very good white wines – Semeli and Agrimi – put us on the right foot for the delay at Athens airport for our flight connection.
Our fist supper was a triumph. We strode past the surprisingly modern butcher, our friend the greengrocer and our other friends (unfairly named the brothers Grimm, whose cavernous shop is a favourite for anything and everything you ever needed or didn't know you needed) to Myrina old port, where fishing boats bob in the water next to a gaggle of cafes nudged together, the demarcations determined by the colour of the table cloths. We headed for a newly upgrated old favourite, now with white, rush-seated ladder back chairs and maps of Lemnos table cloths. We chose prawns that arrived crisp and whole, their heads pulled off and the rest eaten in one gulp. Calamari grilled and big enough to fill a dinner plate arrived with crisp tentacles (always the most desirable bit) doused with lemon and olive oil.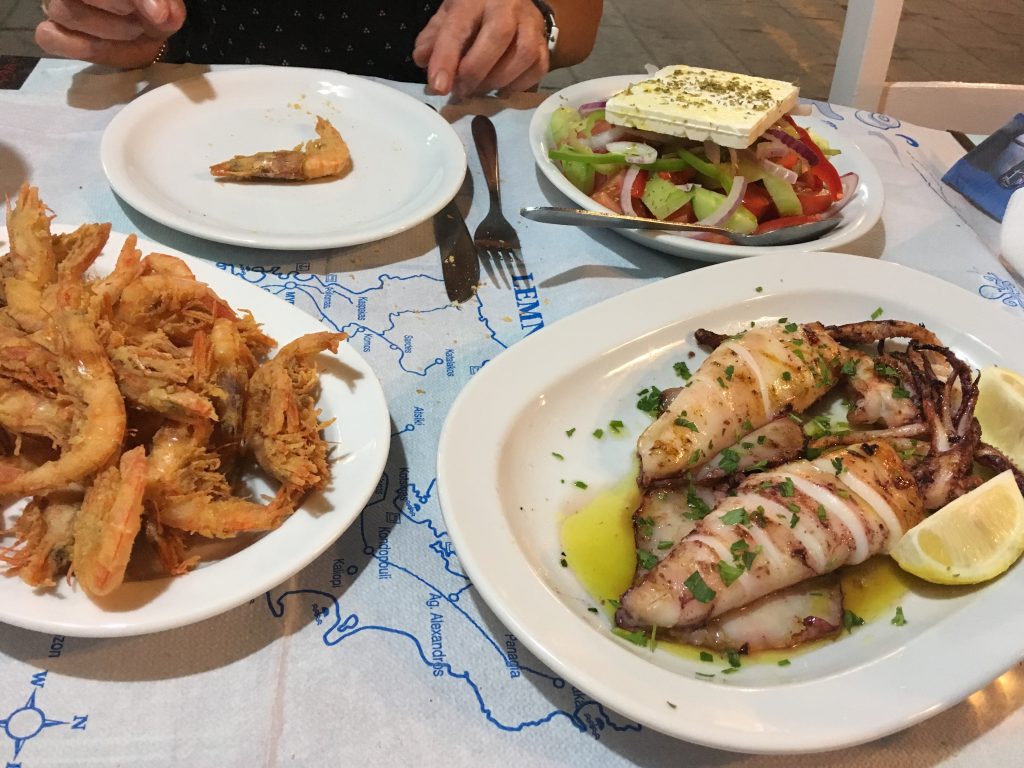 Their Greek salad came with lots of cucumber and many wafer-thin slices of very pale, sweet green pepper, chunks of dark red tomato and slivers of red onion topped by a huge slab of feta dusted with local dried oregano. We sank a jug of lovely local white wine (www.greeceandgrapes.com/en/limnos)and toasted being back in Lemnos.
Wednesday
The first spinach pie for breakfast, this one with feta and fashioned in a coil (9/10), with coffee (my favourite Lavazza espresso) made in a little pot I'd brought with me, bought earlier this year in Kefalonia. We head to the beach at Thanos with our favourite driver Andonis and by noon the talk turns to whether it's to be beer (Mythos) or Campari pre-lunch drinks at the beach bar.
The trellis walkway that leads to Harry's (aka Giannakaros Traditional Fish Tavern) isn't overhung with bunches of grapes this year (our visit is earlier in the season than usual) but the huge taverna overspill next to where Harry used to grow aubergine, tomato and courgette for the restaurant, has been enclosed under a vine canopy with pretty new green painted rush-seated ladder back chairs. It becomes our new favourite spot for lunch. We greet Harry's brother Peter (who we call Big John; he is) who now runs the place and we commiserate over the unexpected sad news of Harry's death. Big John's daughter greets us like the long lost friends we are (it's three years since our last visit), and takes our lunch order. First up, a big bottle of water, a basket of golden Limnos bread, a jug of white wine – thereafter served to our table as soon as we arrive; we come for lunch every day. Then follows the best Greek salad ever, this one with added pickled samphire-like greens.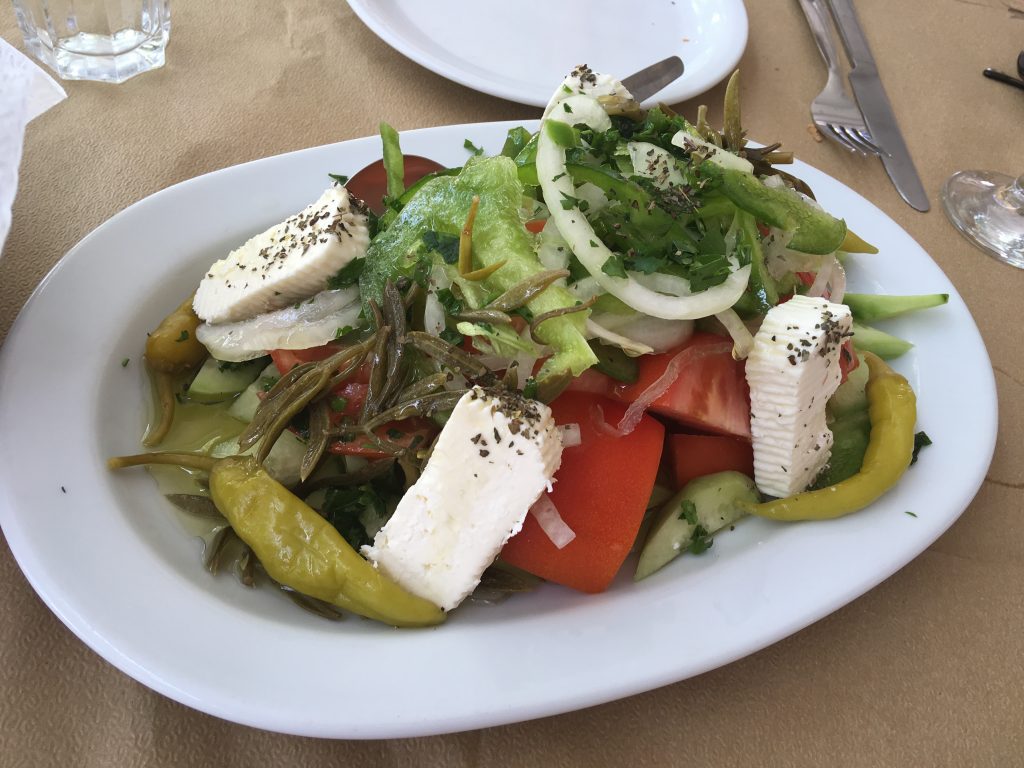 Huge, fat grilled sardines and their famous zucchini frites – thinly sliced, dipped in the superior Limnos flour and deep fried, arrive without a trace of oil. We roll the crisp slivers in heavenly tzatziki; truly the best I've ever had is served at Harry's. Thick Greek yoghurt holds grated, seeded cucumber, the seasoning a hint of garlic and mint. Oh yum. It's good to be back.
We go back to the same Myrina Café for supper, sitting round the corner this time, along the wall of tables for two opposite the fishing boats, with views to the new Harbour and its sailing boats and the up-lit castle on the rock behind it. We feast on beetroot cooked with stalks and greens dressed with olive oil and lemon, horta – sloppy mixed greens served cold, and another grilled calamari with particularly crisp tentacles. And a jug of white wine. We are on the point of leaving, when our greengrocer turned up at the next table. He loves us, always so pleased to see us each year and sent another jug of wine. We beat a hasty retreat as the storm clouds are gathering and streaks of lightening are flashing over and round the castle. There are shrieks all around as flash, flash, flash goes the lightening and the dogs begin to bark as the thunder starts and the rain pelts down. It's lovely on our balcony.
Thursday
Breakfast on a perfect peach, easily peeled and sliced to eat with thick and creamy Greek sheep's milk yoghurt. Boil an egg in one of those Greek coffee pans with toast made by Tessa from bread pinched in a paper napkin from last night's Café. Blustery, chilly day, with overcast sky but promise of blue and sunshine by early afternoon. We think of buying pasta and olive oil and to pinch a few basil leaves for a pasta lunch with fresh tomato sauce made with Kosta's gift (our landlord) of home-grown tomatoes. But no, that didn't happen. On our walk the sun started to poke through the cloudy sky, more blue overwhelmed the clouds and we bumped into Andonis, our driver. That's how we came to be the only people on Thanos beach and later at Harry's. We tucked into a perfect Greek salad, tzatziki, toasted bread (no fresh, due to the storm) and, joy of joys, sliced melanzane (aubergine) floured and deep fried to a perfect golden crisp, inside molten and buttery.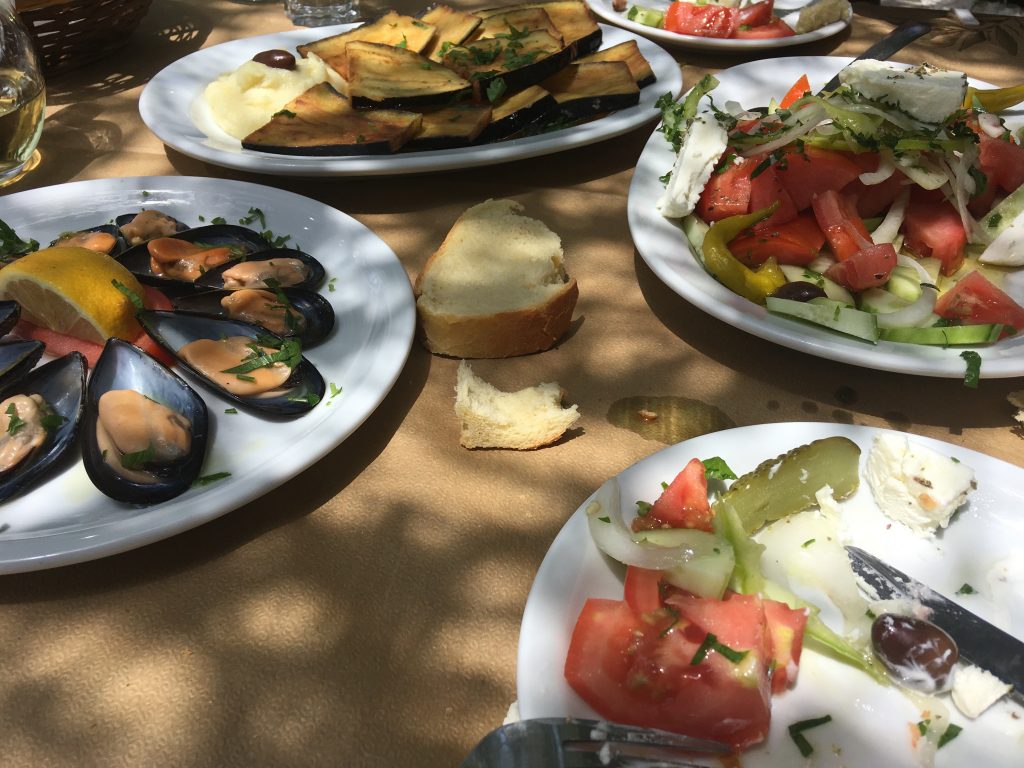 The slices arrived radiating out of a mound of fluffy skordalia (cold garlicky mashed potato). A jug of wine, water and our usual beach walk, before we read our books hoping the sun would shine brightly and eventually it did.
Back at Kostas, Tessa has her first attempt at Negroni: proportions 1 gin, 1 Campari, 1 Martini rosse, slice of orange zest and loads of ice. She used a small Greek coffee pot (about the size of one espresso shot) for the measuring. Result? A tumbler each; it certainly hit the spot.
Dinner was back to our new favourite Café. This time a platter of huge bbq prawns and home made chips. Stole bread wrapped in paper napkin for toast to go with tomorrow's boiled egg.
Friday
No boiled egg today. Instead, Tessa ran out to the bakery for spinach pie, again with feta; this time an oblong wedge (6/10). I cut us slices of sweet and aromatic melon, eaten with more Greek sheep's yoghurt.
Our eyes were bigger than our bellies at lunch time. Another huge Greek salad and we asked for olive oil to dip our bread it. It arrived in a metal gravy boat, grassy and peppery like Tuscan oil and really delicious. Platters of deep fried aubergine slices and zucchini plus a gift from the kitchen of three plump, pointed yet fleshy green peppers beautifully griddled. With tzatziki too, we were fit to burst.
On our first night in Myrina, at our now favourite Café, the family at the next-door table to ours were sharing a huge platter of spaghetti lobster, the pasta flecked with red and glossy with olive oil. We have talked of little else. Each night, as we sink our sundowner, we wonder whether tonight will be the night when we order it. Well it happened tonight. A small lobster was chosen and delivered to us split lengthways and laid out open like a long, slim book. Its sharp, dangerous feelers pointed forward like two slim chop sticks, the cavity between the halves loaded with what turned out to be tomato and red pepper-flecked spaghetti with scraps of chopped flat leaf parsley. This presentation is truly fantastic and it took several moments of gawping before I dived in to winkle out the firmly attached, glossy white meat nestling in the cavities. Our rock lobster's spiny legs were too tiny to crack and the main claws too hard and ridged, so we had to forgo what was surely only a small morsel. The puny crackers provided just weren't up to the job. My what a feast that was and needless to say, the finest, oiliest, richest spoonfuls of pasta lay under and around the beast. We were overwhelmed by the quantity but hardly a strand remained by the time we had finished; it was just too good to leave.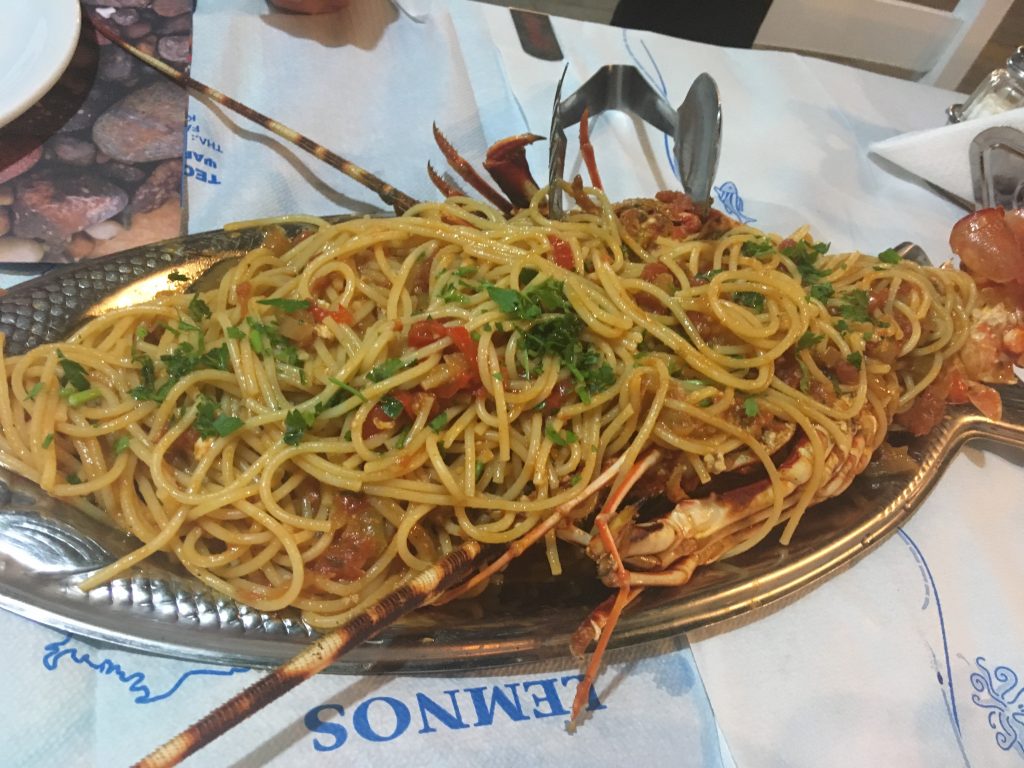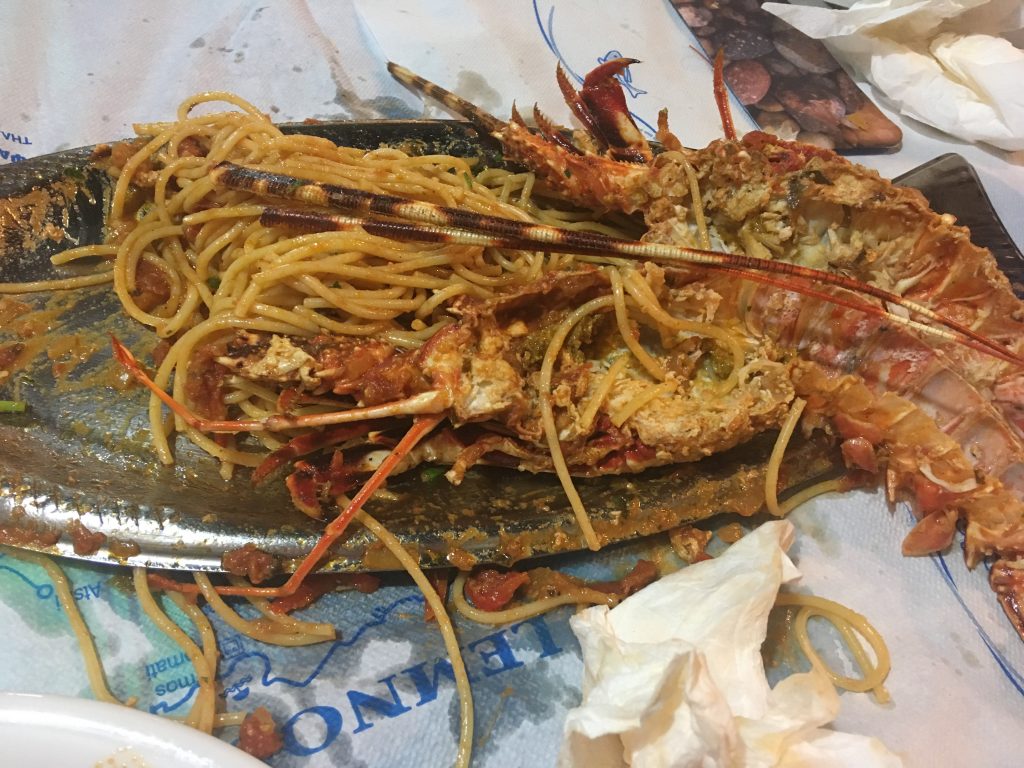 Saturday
Lunch at Harry's was a dish of just caught anchovy looking every bit like plump whitebait, floured and delivered to the table crisp eat-all morsels, fabulous with a squeeze of lemon. Extraordinarily good with Greek salad the very fresh bread with its irresistible golden crust, the dough almost as honey-coloured.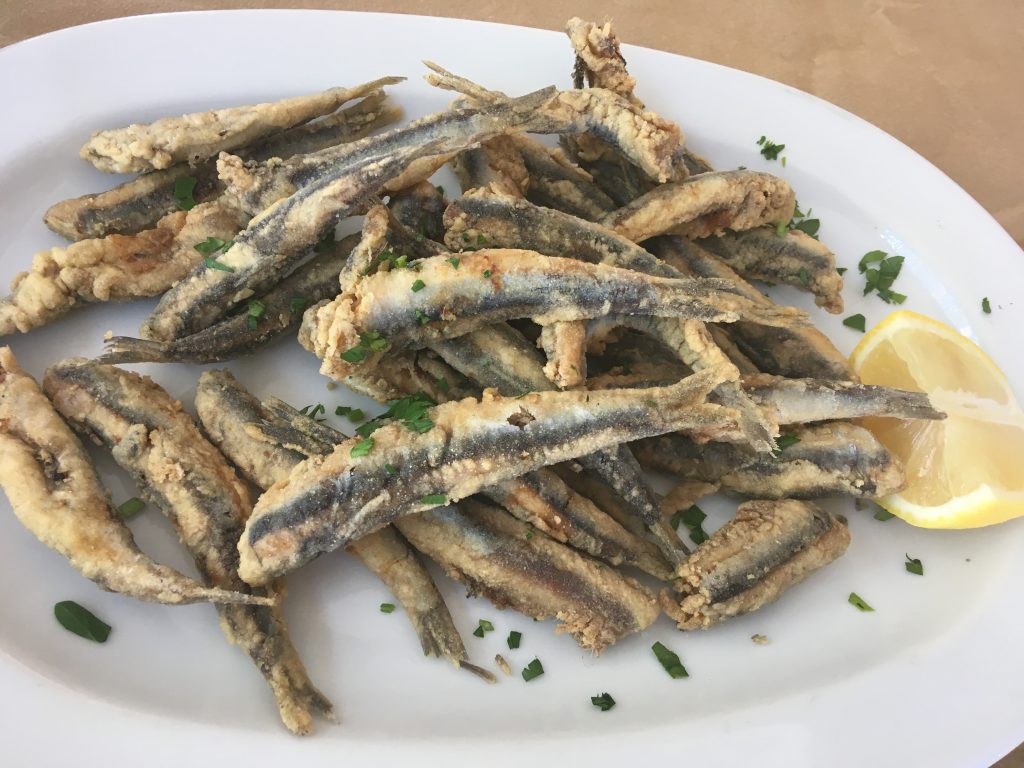 Back to our favourite Cafe, tonight a healthy supper of beetroot (with stalks and leaves, flat leaf parsley, oil and vinegar, almost a meal in itself with a dusting of their superb sea salt). Crisp little deep fried prawns and tzatziki were the perfect accompaniment.
JUNE 30 2019
Sunday
The wonderful sunny weather holds out, so it's lunch in the garden and thoughts of super-easy, minimal cook meals. Made a batch of what I call River Café chillies, which is something my son Zach learnt when he worked there; red chillies are finely chopped then immersed in olive oil, ready for action. As they sit, the chilli heat mellows and the olive oil takes on gentle heat. I spooned some over quickly fried halloumi for lunch with lime and capers. Bought herby pork sausages from Chiswick Farmers Market and plain chipolatas for grandson's supper on Monday. A pretty lettuce was trimmed and planted in a bowl of water to keep it fresh. Went for a long walk with Red leaving a washing line full of fig leaves drying in the sun.
The combination of a long walk, the heat and lengthy watering the garden brought a wave of laziness about supper. It was going to be leftover lobster (from Saturday) turned into a pasta dish with peas and mayo but the lure of sausages in the fridge was too much. Hence bangers, roast tomatoes with leftover boiled Jersey Royals roasted to a crisp roast at the same. As is so often the case, it was the potatoes that were the choice mouthful. Gooey, buttery dolcellate dolce spooned into a pot from www.bayley-sage.co.uk with toasted Hedone brown (still my favourite loaf) concluded this delicious Sunday supper.
Monday
Two of the dynamic ladies who run www.cookbookfestival.org a nom de plume for the flourishing cookery empire that organises the Chiswick event (part of the www.chiswickbookfestival.net from 12-16 September) popped in to collect a huge pile of my books for signing at tomorrow night's dinner. After they left, I spent the morning preparing my recipe notes for the dinner, pleased to hear that all was on course for the mega meal. Avocado and tomato for lunch, then nipped to Tesco to buy grandsons favourite brioche buns and headed off to meet them. Lovely hour or so in the school's local square, where they ran around like loonies with their friends and Red, my dog, and I played ball. Their supper was Jago's Soup (see last week; recipe coming soon), strawberries from the front garden and yoghurt with a swirl of wild Greek honey from the excellent Greek stall at Sunday morning Chiswick Food Market (www.dukesmeadowstrust.org/food-market-chiswick).
A friend arrived for a drink and joined Caspar and me watching the impressive Cori Coco Gauff wipe out darling Venus Williams. Jago plied Jane with crisps and toasted almonds, whispering in my ear several times to ask what else she might like and then cracked walnuts for her. What a charmer he is and he's only six.
The Barrister arrived hot and crumpled from crossing town in rush hour, downed several glasses of water, shunned white wine, reaching for a bottle of Whispering Angel. It was the perfect accompaniment to the River Café inspired linguine crab. My version was made with particularly springy radiatore, a pot of freshly picked crab from the freezer (www.seafoodandeatit.co.uk for stockists) using the remains of my prepared chillies in olive oil, with lashings of finely chopped flat leaf parsley and a squeeze of lemon.
Tuesday
Spent the day faffing around organising myself for tonight's 3rd Cookbook Festival Supper Club with my Early Summer menu. It started with garlicky moutabal (see Recipes) with quickly pickled cucumber and Gail's-style sesame crisps for scooping and crab crostini, both adapted from The Fish Store and on the table for people to tuck into the moment they were seated (all 48 of them).
The first course was roast tomato borscht with pesto toast and a swirl of creamed feta adapted from The Big Red Book of Tomatoes. The main course, chicken confit renversee with tomato vinaigrette and green beans and a huge bowl of Jersey Royal potatoes to share (adapted from the Big Red Book of Tomatoes). There was a vegetarian option of roast butternut squash wedges with the tomato vinaigrette and Greek feta (recipe coming soon). The meal concluded with individual strawberry trifles (from Dinner Tonight).
Everybody loved all the food and I was absolutely thrilled with how well it translated from my recipes for a few up to 48 plus who came to the dinner. So thank you @cookbookfestiv1 (instagram)and @CookbookFestiv1 (twitter) where you will find more photos of the evening. Special thanks to my superb local butcher www.mackenbros.co.uk and www.thetomatostall.co.uk, aka Isle of Wight tomatoes stocked by www.natoora.co.uk, whose produce shone through; a tumble of tomatoes decorating the tables went home with many of the guests.
Wednesday
Schlepped into the sticky west end to see Europe by David Greig, well worth the grief of the crammed tube journey and wading through the heaving Leicester Square pavements. Late supper of a particularly good, well-packed club sandwich with a suitably big pile of very crisp frites, then trundled home on the very hot and still surprisingly busy tube.
Thursday
Busy day running around with no time to think about food, so bread and cheese for lunch and roast Cornish cod from the freezer (thank you Trelawney Fish in Newlyn; tel 01736 332043). I roasted a whole side with a generous squeeze of lemon juice and splash of olive oil, cooking sprays of cherry toms alongside. We ate far too much, delicious with peas – actually petits pois, also from the freezer. I know it's fresh pea season but this was another reach for the freezer supper and I love reliably sweet and tender petits pois while fresh peas can be little bullets.
Friday
Booked a table for lunch at the Chelsea Arts Club with sons Zach and Henry, inviting Henrietta Green to join us before artist friend Rose Hilton's Wake. We had a lovely lunch in the garden, exquisite roast octopus with chilli flakes and what they called wet socca Nicoise to start. It turned out to be a tender curl of bumpy octopus with a smear of hummus-like paste and a couple of very thin scraps of carta de musica-type wafer that did nothing to enhance the dish. I think socca and Nicoise refers to the Nicoise dish of little pizzas made with chickpea flour. Both the boys had not entirely successful chicken and ham pie with suet pastry, Henrietta another starter of beef carpaccio with pickled vegetables and shaved Parmesan, while I had an enticing sounding aubergine dish. Aubergine filled with wild rice and aubergine caviar with a pine nut crust turned out to be half a roasted aubergine with a dull filling and far too much chopped pine nuts that roasted dry and cloyed on the tongue like sawdust. We drank Provencal rose and listened to moving speeches about Rose's work and her life in Botallack with sons Bo and Fergus and husband Roger Hilton. The Barrister and I left for a house moving party and stayed for a buffet supper in the garden; shredded chicken and roast cherry tomatoes with champagne to toast the Darlings on their way to new home in Hampstead.
Saturday
Spent most of the day preparing the vegetables, making garlicky aioli and poaching a whole cod for Sunday lunch party le grand aioli; recipe next week. Lunch in the garden, grabbing what turned out to be the last of the really hot sun we've been enjoying. Lovely but slightly over-cooked barbecued mackerel and tomato salad with quickly pickled red onion. Delicious with lavishly buttered, very fresh Hedone brown bread. Dinner at the Chelsea Arts Club with best friend over from Sydney and The Barrister. Too chilly to eat outside but drank long and deep while tucking into that delicious octopus with hummus again, followed by thick slices of very pink roast duck breast piled over crunchy soy and sesame vegetables. They both had rib eye steak with creamed spinach topping (hold the peppercorn sauce) and hand cut chips. I rather wished I'd joined them. Tessa finished with a lovely gooseberry fool, chunky with crushed fruit. Time to make that again while the brief green gooseberry season lasts.
---
June 23 2019
Sunday
For the first time in ages, the fish kettle came down from its perch above the kitchen window, it's layer of grime scrubbed clean, ready to balance over two burners half filled with herby, acidulated water. There it simmered gently, poaching a splendid Cornish sea trout, its eyes sparkling brightly before they turned cloudy as it cooked. Sea trout from Cornwall is in season now, and mine was ordered specially from Newlyn by Johny, my Newlyn fishmonger at Covent Garden Fishmongers in Turnham Green Terrace. The poaching liquid – a classic mix of water, splash of white wine and white vinegar, a few bay leaves, sliced carrot, black peppercorns and parsley stalks with a few slices of lemon – simmered for 20 minutes before the cleaned, scaled and trimmed whole fish was lowered into the court bouillon, returned to simmer, simmered for 8 minutes then left to cool in the kettle. It was served tepid on a white platter, the skin peeled back to reveal its beautiful pale pink flesh. Instead of the usual mayo or hollandaise, I made broad bean tzatziki with creamy Neal's Yard yoghurt flavoured with lemon and olive oil but no garlic. Along with roughly grated cucumber and chopped mint, I added my first broad beans of the season, bought at huge expense from the occasional Kitchen Garden sale at Chiswick House. No potatoes this time but a dish of snappy, super-fine green beans.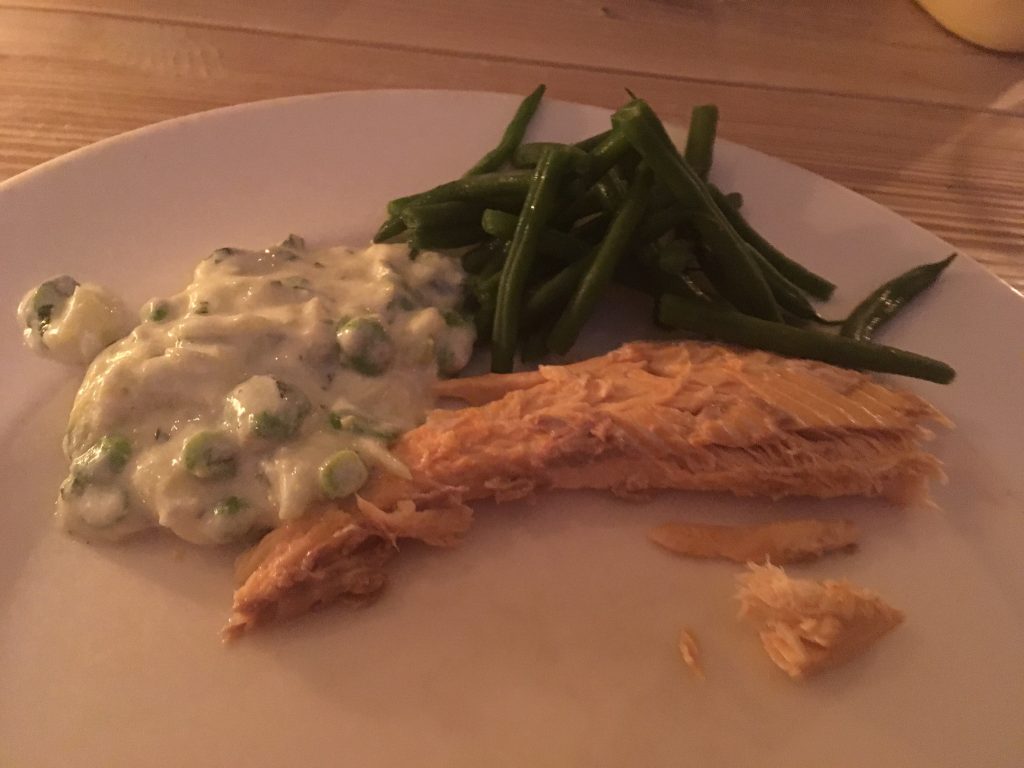 Monday
Monday is when I collect my two grandsons from school and give them supper. For some time, the two favourite meals are what Jago calls My (his) Soup and Pizza Express Margherita, the latter a treat (on the days when I can't be bothered to cook). Jago's Soup is actually a way of getting him to eat carrots and tomato, both grated into softened onion and crumbled sausage then simmered in stock. The secret ingredient is Heinz tomato ketchup although this time I made it with leftover roast tomato halves and omitted the squeeze of ketchup and it was voted the Best Ever. It looks like a sloppy risotto when it's finished, as it's stirred with separately boiled orzo, the rice shaped pasta. My supper, a Cricket Dinner at the Garrick in Covent Garden, was altogether more sophisticated: Montgomery Cheddar Souffle, herb-crusted rack of Devon Lamb with pea and broad beans a la Francaise followed by summer pud with elderflower syllabub. Another triumph from chef Clive Howe.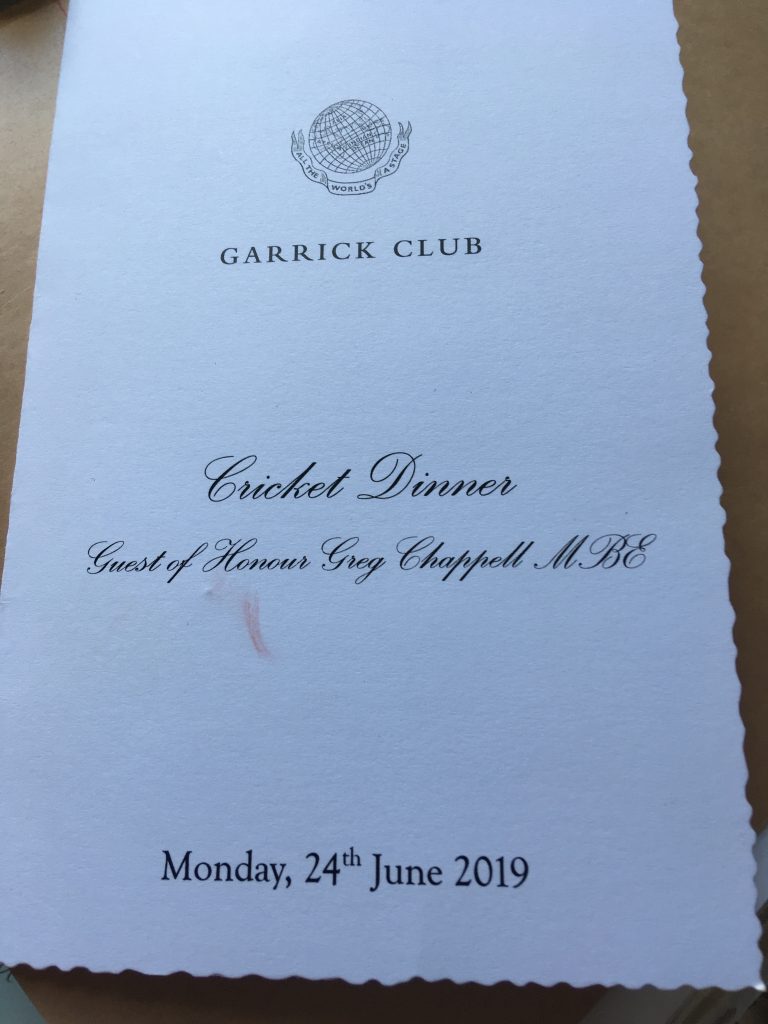 I couldn't believe my luck to be seated next to David Gower. He's a deeply impressive speaker (without notes and without mentioning the Tiger Moth jape that ended his career) and very charming with it.
Tuesday
I spent a happy morning flaking the rest of the salmon trout to make herby fish cakes (see Recipes). There was plenty of fish so they ended up big and plump, perfect for dipping in beaten egg and breadcrumbs to fry briefly, just until crisp and golden. To go with them I made a quick and simple pea puree with mint from the garden and full-fat, totally gorgeous Neal's Yard crème fraiche. The trick for this useful puree that suits being served cold, is lengthy liquidizing to break down the surprisingly fibrous skins.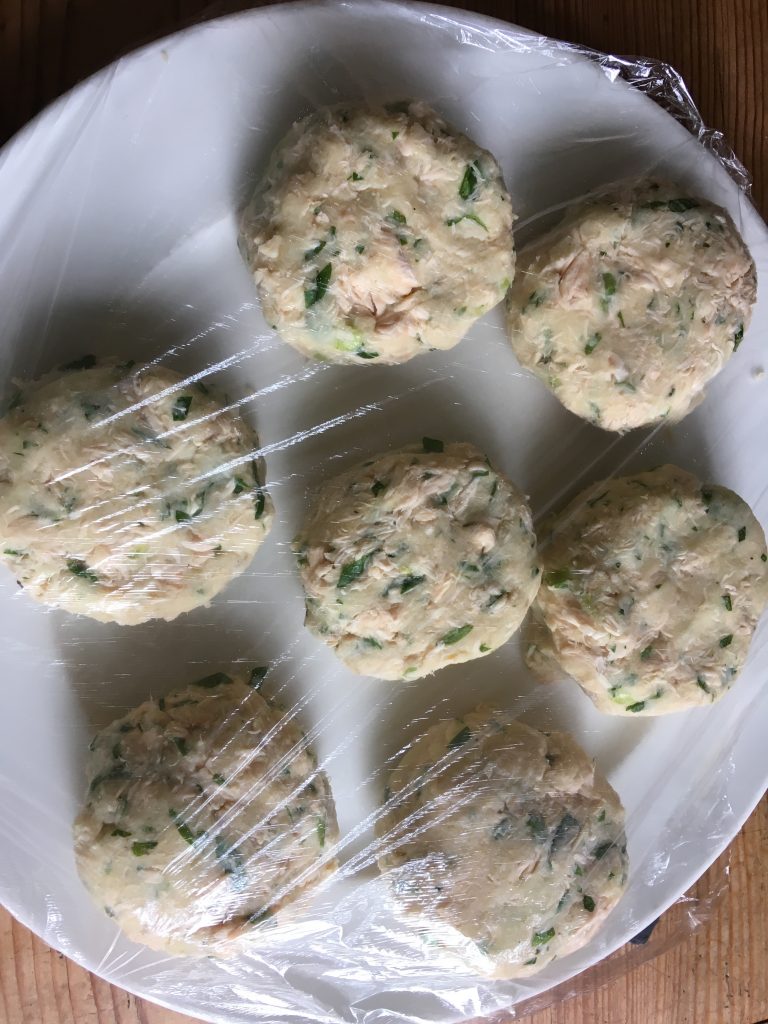 Wednesday
Lovely day out in Bath for a wedding celebration at www.whitehorsetwerton.co.uk. The whole pub was given over to the wedding feast; champagne in the pretty beer garden, the pub festooned with flowers echoing the colourful paintings that line the walls, tables hunker-munker with family and friends. This is my second visit to the White Horse (the landlord is The Barrister's cousin and it was his wedding) and the food has been special. The starter was a pretty sea bass ceviche with a gargantuan pancetta-wrapped guinea fowl supreme with pea and broad bean risotto and an amazing soft-yolked deep-fried crisp egg. Lemon tart with raspberry sorbet and berries for pud.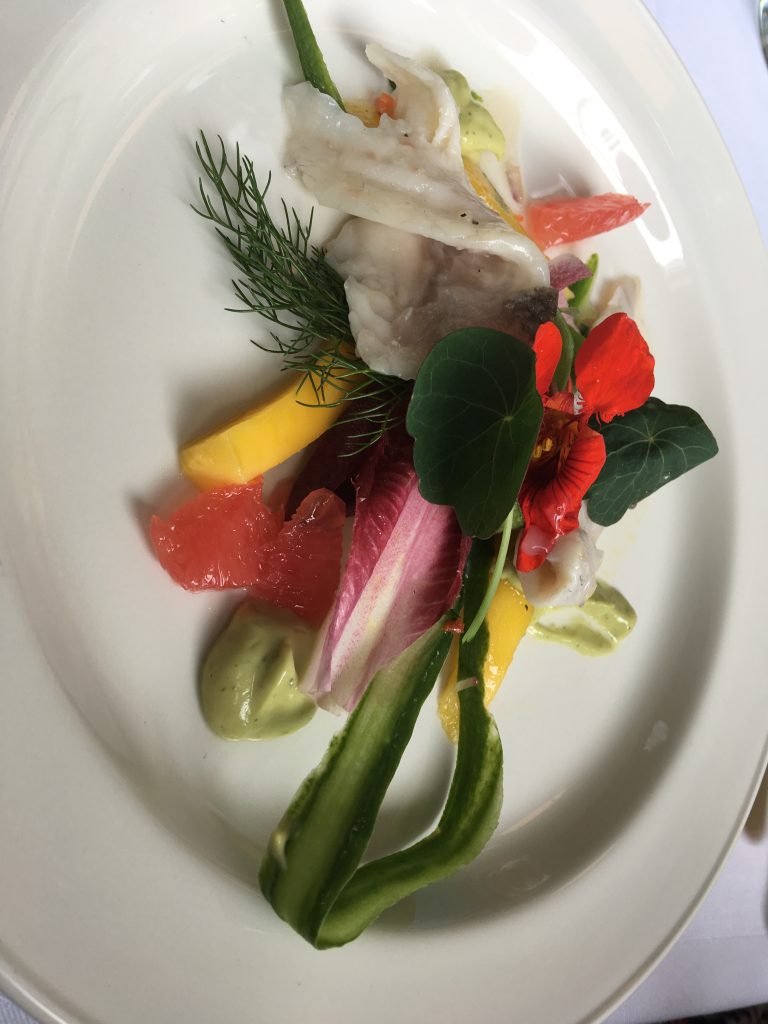 Thursday
Picked leaves from my flourishing vine to make dolmades (see Recipes) for eldest son's birthday. This lot were made with minced pork, dried oregano from Greece, lashings of coriander and Iranian green sultanas from much-loved recently re-opened Saffron (248 Kings Street near Ravenscourt Park, the Iranian food shop wiped out by mega burst pipes 18 months ago).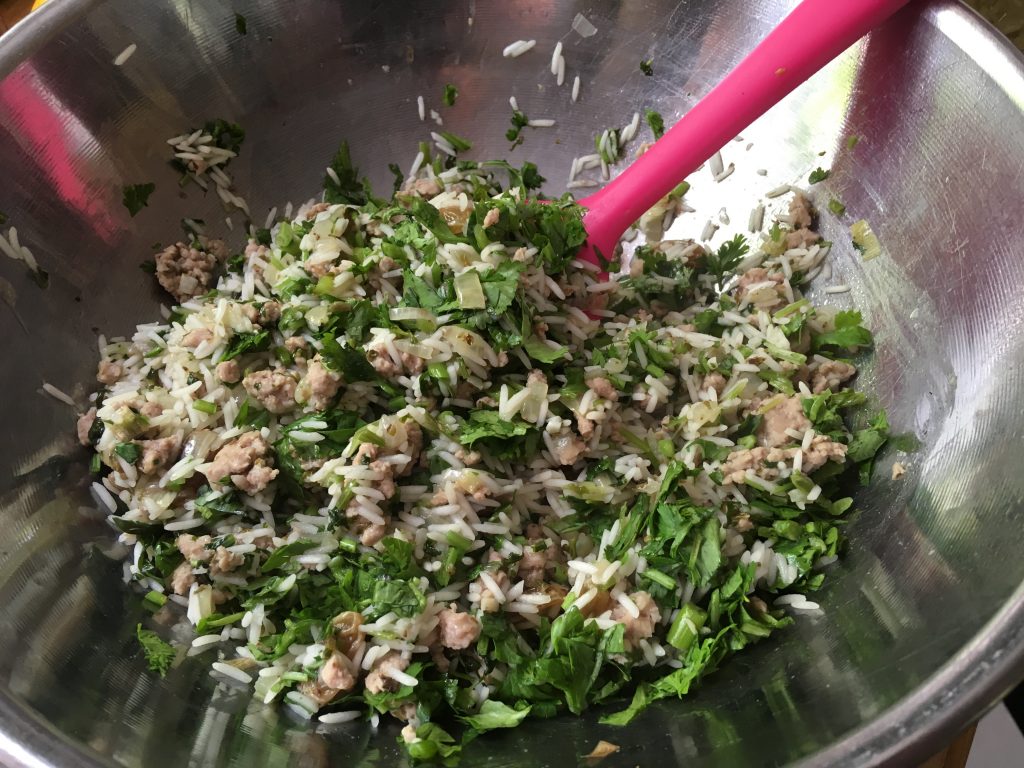 Joined an old friend for lunch in the gorgeous garden at Chelsea Arts Club. I stuck with the bargain Artists Menu: tomato and mozzarella slices with diced pickled red onion sprinkled over the top, followed by a light and elegant tomato tart over a slippery mess of sautéed oyster mushrooms, endive, rocket and parsley. Made chicken kebabs to cook on the barbecue for supper with a humungous crisp salad of heritage tomatoes, endive and John Hurd's proper watercress that comes in big beefy sprigs and a strong mustardy tang. New packaging though. It might protect the leaves more efficiently but severely reduces the amount you get.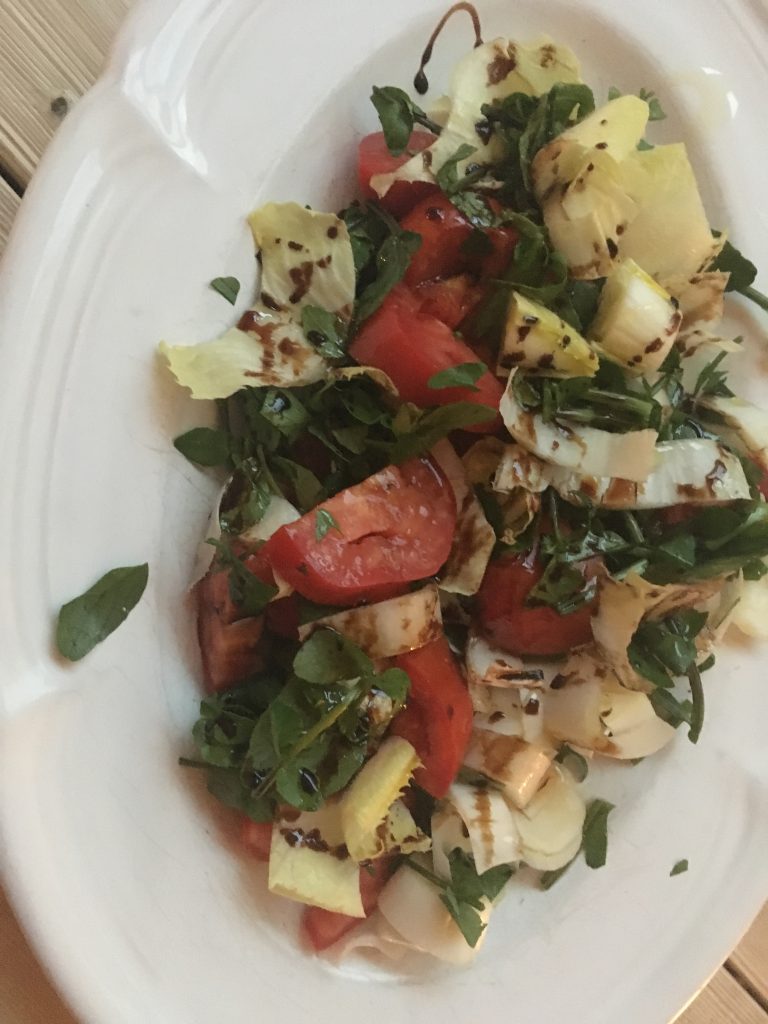 Friday
Finally managed to nail Rodney at Macken Brothers, my fantastic local butcher in Turnham Green, to arrange a trade account for charity dinner next week taking place around the corner from the shop and hosted by the dynamic www.cookbookfestival.org (this year's Festival 12-16 September; my dem is on Sat 14, around noon and I'm featuring sausages, with help from Rodney). I left with neatly trimmed pork fillet ear-marked for a bbq tonight. It was cut in smaller than usual kebab size pieces and marinated with lemon, olive oil, masses of crushed garlic and rosemary, served alongside meaty Italian sausages flavoured with fennel seed (an idea ear-marked for my dem and a Festival Sausage from Mackens). With a simple green salad of peas, Cos lettuce, quickly pickled cucumber and mint with creamy vinaigrette. This was the perfect end to a busy week. The Barrister ordered lobsters from Newlyn (www.fishforthought.co.uk) for a weekend treat.
Saturday
Usual breakfast of berries with a spectacular melon and strawberries from a pot in my miniscule front garden (see Writings/An Urban Veg Plot) and favourite creamy, live sheep's yoghurt (Woodlands) followed by an attack on the garden. The Barrister went food shopping and came back with freshly baked Hedone brown bread, home made Scotch eggs, another melon, and a big jar of el Navarrico Judion, lare Spanish butter beans. I turned the beans into salad with a mayo and Dijon mustard base, juicy chicory, more quickly pickled cucumber and finely chopped watercress. Delicious! We ate it with a jar of our favourite tuna (Ortiz Bonito del Norte) bathed in olive oil.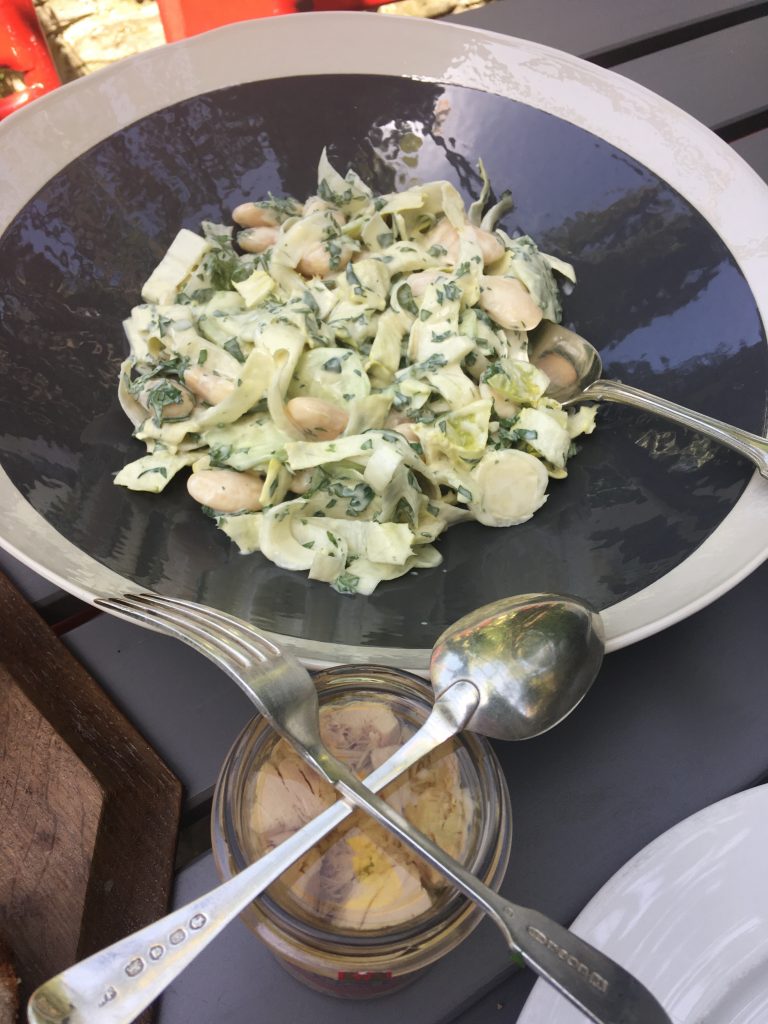 Dinner was lobster with mayo, jersey royals and another crisp green salad. Boy it was good but next time I won't forget to ask for the claws to be cracked.