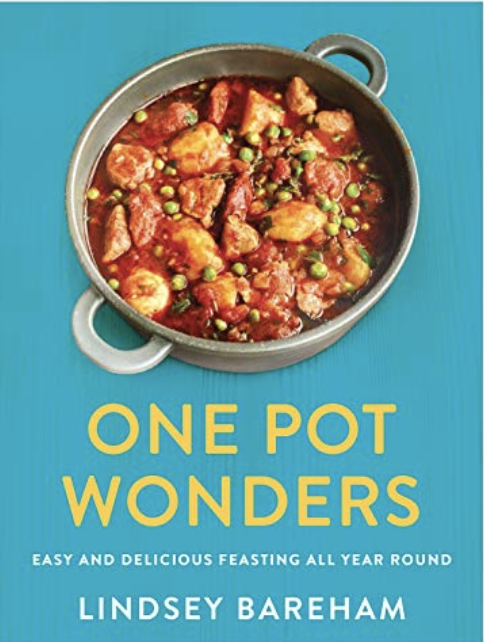 One Pot Wonders
If you're getting bored with your new year diet and even more bored with the washing up, Lindsey Bareham brings you recipes for perfect comfort food for curling up and enjoying on your own, or feasting with family and friends. Dishes to suit every occasion. Lindsey's delicious recipes include her oven-baked meatballs with sweet potato and roasted shallots, Saffron chicken with apricots and cardamom, asparagus, potato, pea and quinoa salad, many of which are perfect for the diet-conscious. And there are puddings too, from lychees, melon and stem ginger fruit salad to a comforting Malva pudding. Lindsey Bareham's recipes feature big flavours from all around the world but, more importantly, these One Pot Wonders are incredibly easy to make – anyone can cook them.

Chapters include: Bakes, Big soups, Stews, Curries, Pasta, Salads and Puddings.

'100 recipes which will wrap their arms around you on the most dismal of days and give you a reassuring hug'
Daily Mail
Just One Pot
When Lindsey Bareham had her new kitchen installed, her normal cooking environment was turned upside down. Restricted to two rings, she had to approach cooking in a whole new way.
The result is over 100 creative and exciting recipes that can be cooked in just one pot – what's more, they all require minimal preparation and are made with seasonal ingredients that are easy to find in your local supermarket. There are no fiddly restaurant-style techniques (although the recipes include plenty of tricks and shortcuts if you want to upgrade your meals).
Whether you want to make a quick and easy after-work dinner or a relaxed meal for friends, this book is perfect for you. Tempting mains include Chorizo and White Bean Stew, Thai Green Duck Curry with Coriander Noodles and Monkfish Chowder with Green Beans and Thyme, and enticing desserts include White Chocolate and Raspberry Trifle, Chocolate and Almond Rice Pudding and Apple Cream with Banana Passion Fruit Sauce.
'Lindsey Bareham is one of those writers – like Elizabeth David or Jane Grigson before her – whose books have the power to change the way people cook and eat'
Sunday Times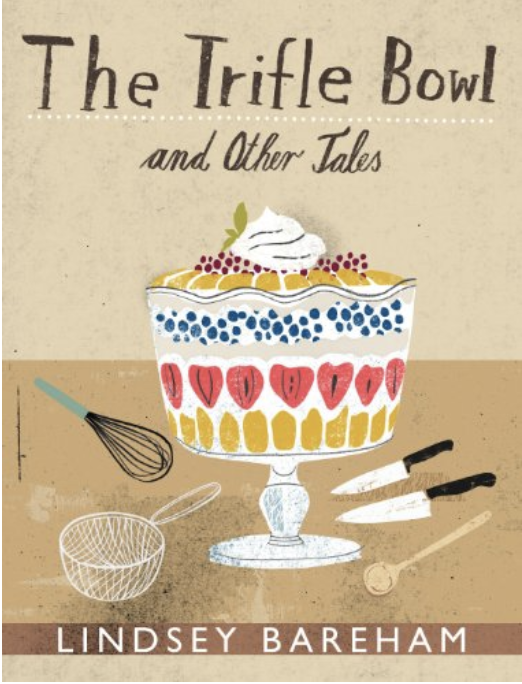 The Trifle Bowl and Other Tales
One cook, her kitchen and a lifetime of recipes.
A cookery book like no other, The Trifle Bowl and Other Tales is a dip into Lindsey Bareham's kitchen, introducing us to more of her tempting, easy-to-follow seasonal recipes, this time organized by the well-loved and well-used pots, pans, gadgets and utensils she uses to cook them. Roast Tomato Risotto with Saffron and Honey in a sauté pan, Cod, Anchovy and Spinach Boulangère made using a mandoline, Vietnamese Chicken Patties with Mint Salad and Roast Peanuts in a quaint burger press, and Raspberry Jelly Trifle in her grandmother's trifle bowl. This unique approach to ordering recipes also looks at the objects themselves – their history, design evolution and why they're good at what they do – and their power to evoke memories of meals past. It is not just a book to cook from, Lindsey's fine writing makes it a pleasure to read from too.
'I own every one of Lindsey Bareham's books. There isn't a recipe in The Trifle Bowl that I don't want to make right now; but just as much, this is a book to read as well as cook from. And actually, I love it so much that along with my books, I gave it to my daughter to provide comfort, pleasure and instruction when she went off to university and her first independent kitchen in the autumn'
Nigella Lawson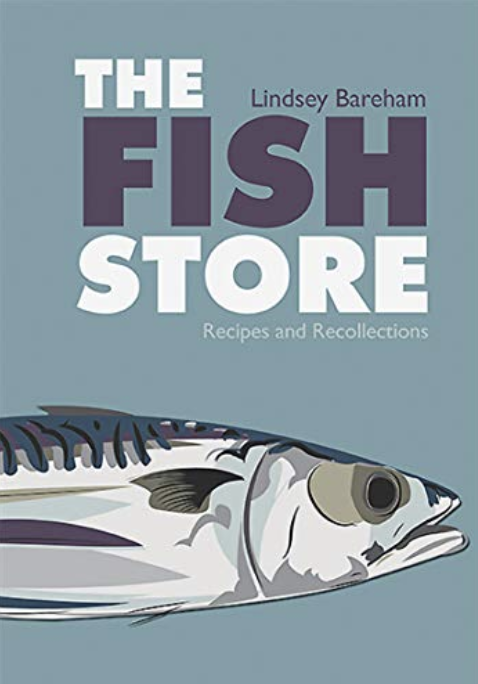 The Fish Store
A renowned food writer's personal cookbook for her sons became this classic collection of simple seafood recipes and much more from around the world.

When her sons inherited their father's childhood home in a Cornish fishing village—formerly a commercial building for storing and packing pilchards—renowned food writer Lindsey Bareham decided it was important to record some of the recipes and memories from this extraordinary place. It started as a notebook for her sons, with lists of favorite ways to cook mackerel, monkfish, and sole, as well as how to make mayonnaise to go with the gift of a handsome crab or crayfish. But soon it grew to become this very special book, full of recollections and anecdotes, and fabulous holiday food.

Although the setting is Cornwall, Bareham's recipes draw on influences from around the world, including Portugal (Portuguese Cabbage Soup with Rosemary Bruschetta), Italy (Red Mullet Wrapped in Parma Ham with Garlic and Rosemary) and Turkey (Spiced Aubergine Salad with Cumin). There are chapters on eggs, chicken, lamb, vegetables, and, of course, puddings, alongside a wonderful collection of recipes for fish of all kinds. This is a cookbook classic that food lovers will enjoy reading as much as they enjoy cooking and eating it's wonderful creations.
'Lindsey Bareham's recipes always had me scribbling a shopping list. These, inspired by her strong connection with the lovely fishing village of Mousehole, stir up sweet memories of Cornwall'
Rick Stein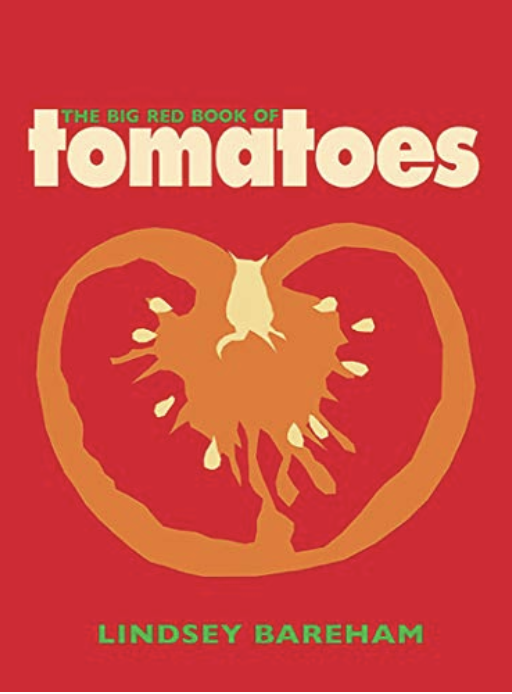 The Big Red Book of Tomatoes
Ever been confronted by a couple of tomatoes and some of yesterday's bread, with nothing else for supper?
In The Big Red Book of Tomatoes, Lindsey Bareham will turn them into a delectable dinner for one. And, if you are a gardener, next time you are stuck with a crop of tomatoes that won't ripen, why not try Lindsey's mouth-watering green tomato tart with zabaglione cream?
In this lively, inspirational book, with a stunning collection of over 400 recipes, the fruit we like to eat as a vegetable is given the star treatment. There are salsas from Mexico, curries from India, Arab tagines, pizzas from Italy and chutneys from the British Isles. If you want to know how to make the ultimate Bloody Mary, then this is the book for you. There are innovative dishes such as Tomato Tarte Tatin, Golden Tomato Lasagne with Basil and Vine Tomatoes, classics such as Stuffed Tomatoes, Insalata Tricolore as well as the more unusual Shaker Tomato Cream Pie, and of course pasta in every guise.
Lindsey explores in depth the tomato's affinity with eggs, bread and pasta, in salads, sauces, with meat and fish. Some recipes take ten minutes, most take less than thirty, and others need a couple of hours of slow simmering on the back burner while you get on with something else. The Big Red Book of Tomatoes is an invaluable addition to every cook's bookshelf.
'It tells you everything you want to know about the fruit, and is jam-packed with an interesting selection of recipes, sweet savoury'
Mark Hix, The Independent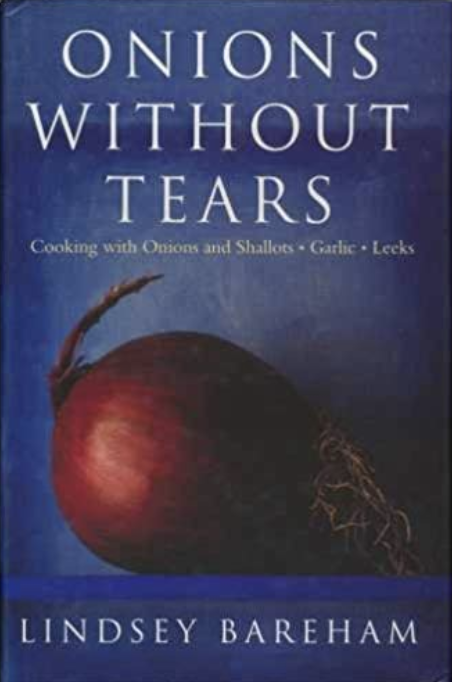 Onions Without Tears
Onions are a universal ingredient, appearing in food internationally, and one that can be treated and cooked in myriad ways. The allium family comprises onions including the bulb onion, red onion, spring onions or scallions and Welsh holtzers, leeks are the mild member of the family, and extremely versatile on their own right, chives and garlic including green garlic, en primeur garlic and elephant garlic. This book explores the diversity of the allium family, including cooking techniques and tips, appropriate equipment, anecdote, history, and recipes from around the world and from favourite chefs. By the author of "In Praise of the Potato".
'Onions Without Tears is calm, measured, assured, sensible, clever, useful, amusing and jam-packed with spot-on recipes. I am almost of a mind thatLindsey Bareham's books are all you need in a kitchen'
Matthew Fort, The Guardian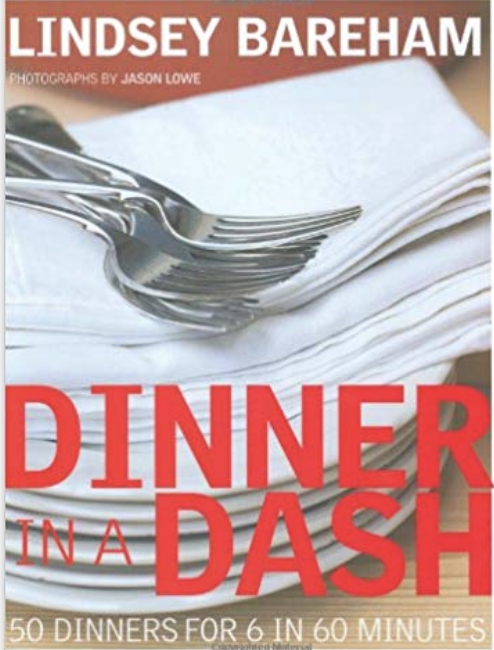 Dinner In A Dash
This unusual book takes the worry and work out of entertaining with a sensational collection of dinners for six that can all be cooked in under an hour – and without breaking the bank. We no longer have to be daunted by thinking up a three-course dinner menu, nor have the occasion dominated by the stress of having to spend all evening in the kitchen making sure that all the food is ready to serve at the right time. "Dinner in a Dash" contains 50 different menus, each consisting of three delicious, seasonally balanced courses, as well as a shopping list to minimise time spent in the supermarket and a work plan to take you through all the preparation and cooking necessary to have everything finished within the 60 minute timeframe. There are menus to suit all tastes and appetites including highlights such as Warm Lentil Salad with Spinach and Poached Egg, followed by Tuna with Cherry Tomato Gaucamole, with a dessert of Chocolate Crepes with Rum Butter Sauce; or Mushrooms a la Grecque, followed by Lemon Chicken with Potatoes and Spinach and finishing with Roast Pears with Marsala and Cinnamon. In addition, each of the 150 recipes is given in full at the back of the book so the reader can use the individual dishes independently and in different combinations.
'I got my copy from the Oxfam shop, I'm ashamed to say (in that the author receives no royalties) but I'm going to buy Bareham's other books now. Wish I could give it six stars.'
Emma 'who reads a lot', Amazon Customer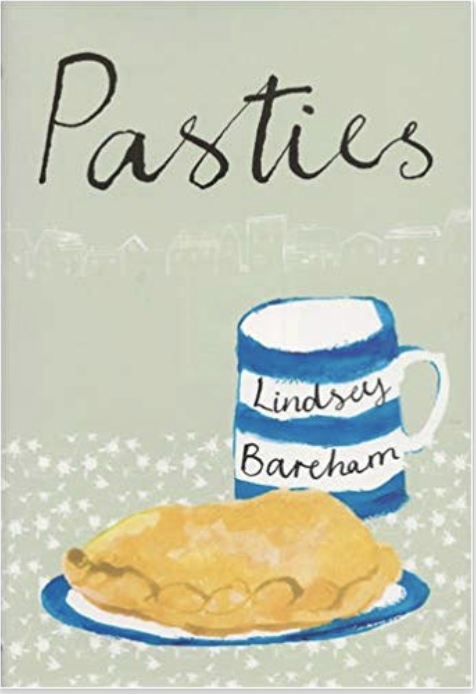 Pasties
Over the years I've always made pasties, particularly for picnics, but when I return to Cornwall, which I do often, I rarely make them. That's because wherever you are in the south West Peninsula, Cornish pasties are on sale every day of the year. If you are lucky, they will be home made by the owner of a seaside café or a specialist bakery such as Ann Muller's famous Lizard Pasty Shop at Helston, on the Eastern land, as we call the Lizard in Mousehole.
Back in London, I love making pasties. To be authentic, Cornish pasties are made with Cornish ingredients and everything that goes in one is raw. Much as I love the classic pasty filled with potatoes, onion, swede, confusingly often called turnip in Cornwall, and steak, I am increasingly inspired by Spanish empanadas, with their exotic, lively fillings. This little book is my take on Cornish and other pasties and I hope you find it inspiring. After all, you don't have to be Cornish to love pasties and you don't have to be Cornish to make them.
'Another great book by Lindsey Bareham. Enjoyable to read, and great recipes.'
Piet, Amazon Customer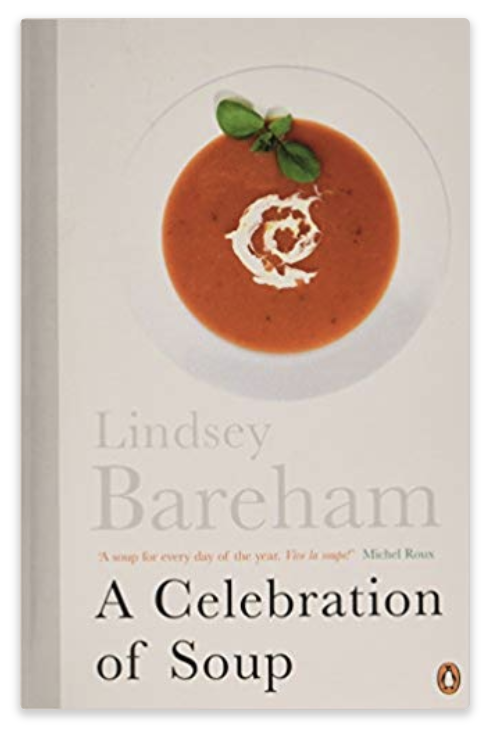 A Celebration of Soup
From the intense flavours of a clear consumme to the hearty warmth of a good broth, from the tang of a chilled summer appetizer to the richness of a comforting chowder, soup is one of the most versatile dishes imaginable. This unparalleled book covers every aspect of cooking soups, from stock-making and thickening to garnishes, embellishments and accompaniments.
'If I could buy only one book this year it would be Lindsey Bareham's A Celebration of Soup'
Nigel Slater, The Observer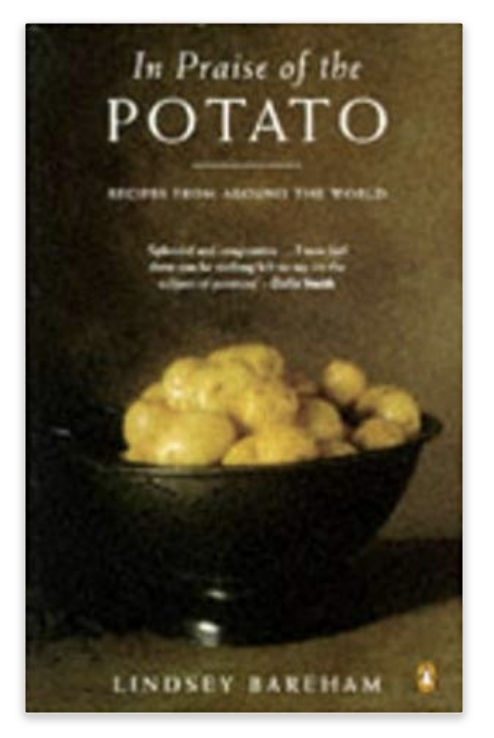 In Praise of the Potato
Deliciously versatile, the Potato can be exotic, elegant plain or traditional. It marries perfectly with any number of Herbs and Spices.
In Praise of the Potato grew out of Lindsey Bareham's work as a restaurant critic, which brought home to her the astonishing adaptability of this staple vegetable. Full of information about the history, folklore, buying, storage and different varieties of potato, this delightfully lively book truly has something for everyone.
'This is a splendid and imaginative book, and I now feel there can be nothing left to say on the subject of potatoes'
Delia Smith
'I love the book. It's full of delicious recipes and good information'
Elizabeth David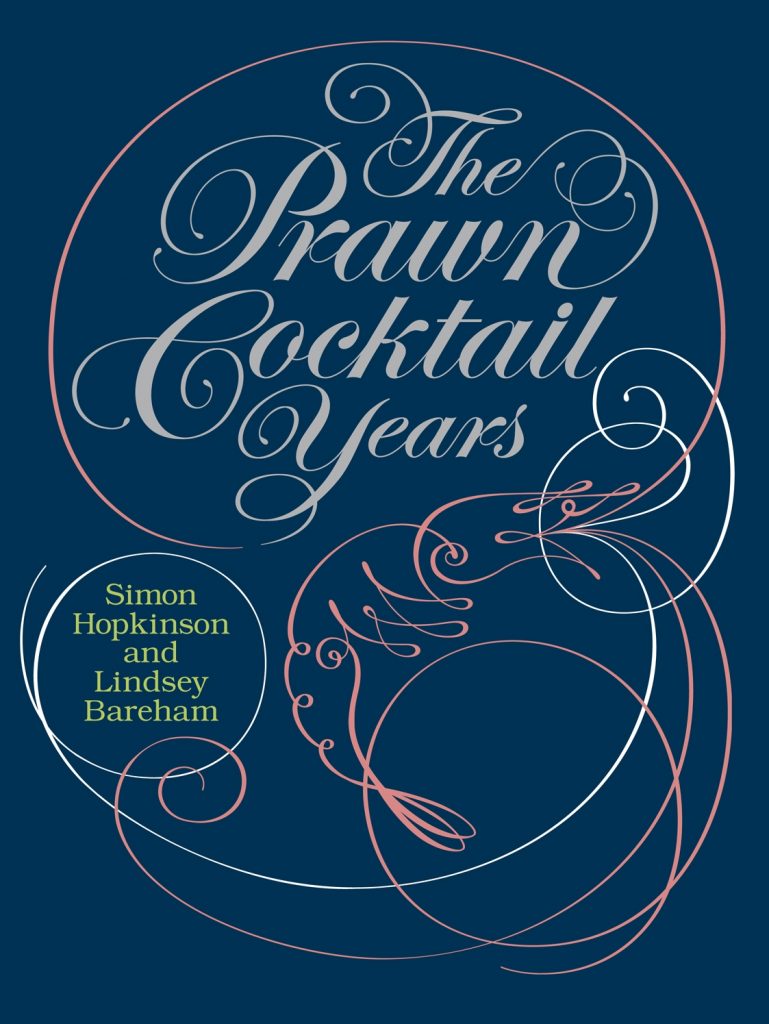 The Prawn Cocktail Years
Simon Hopkinson and Lindsey Bareham's first bestselling collaboration, Roast Chicken and Other Stories, proved that great chefs can produce unpretentious and, above all, delicious food which anyone who cares about eating well can emulate. Now, in The Prawn Cocktail Years, they turn their attention to the Cinderellas of the kitchen, those dishes we have abandoned in our quest for the wilder shores of gastronomy.
Dishes like Spaghetti Bolognese, Chicken Kiev, Quiche Lorraine and Boeuf á la Bourguignonne have all been slung out like old lovers, but made with good, fresh ingredients, and prepared with care and a genuine love of good eating, these former favourites could – and should – grace the most discerning table. The Prawn Cocktail Years sets out to rehabilitate the food we once loved and found exciting. In doing so the authors take us on a cook's tour of the great post-war hotels and gentlemen's clubs with their Sole Véronique and Treacle Tart to the bistros of Swinging London, with their French Onion Soup and Coq au Vin, to the trattorias where one could find Fegato alla Veneziana and Osso Bucco and to the great gourmet restaurants, such as George Perry-Smith's legendary Hole in the Wall in Bath.
Recipes for all these wonderful and utterly delicious dishes are here, together with what has been described as the great British meal – Prawn Cocktail, Steak Garni and Chips and Black Forest Gâteau – much derided but, when lovingly prepared, a truly magnificent feast.
'I have been reading and enjoying Lindsey Bareham's writing since I first discovered her restaurant reviews many years ago. But it was her wonderful book, The Prawn Cocktail Years, which she co-wrote with Simon Hopkinson, that drew me to her recipes; and I still adore so many of its dishes.'
Carole Bamford, Daylesford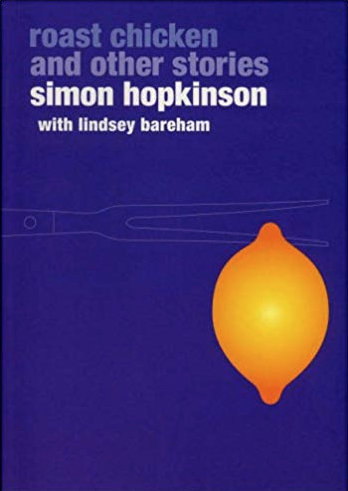 Roast Chicken and Other Stories
Winner of both the 1994 André Simon and 1995 Glenfiddich awards, this acclaimed book will inspire anyone who delights in getting the best out of good ingredients and who enjoys sharing the ideas of a truly creative book.
Simon was still working at Bibendum when he started writing this. I was able to help complete the project, with Simon coming to my house where we cooked and wrote the book.
'I would like to thank Lindsey Bareham without whose help this book could never have been written'
Simon Hopkinson

'The most useful cookbook of all time'
As voted by Waitrose Food Illustrated