Sunday
Lunch at Harry's (aka Giannakaros Traditional Fish Tavern) on the beach at Thanos, Lemnos, is as good as ever. Harry jumped ship to the family's other restaurant at Kontias (more later) some years ago and younger brother Peter keeps the same high standards. While Harry's son and daughter run Kontias, Peter's daughter is a great asset here, working the tables with other relatives and friendly young folk. I think they serve the best food I've ever eaten in Greece and it's part of the reason why Tessa and I have been coming back to Lemnos for so many years. Today we have the best ever zucchini frites, the long slices cut on the slant, quickly dipped in flour and deep fried to crisp, crusty perfection.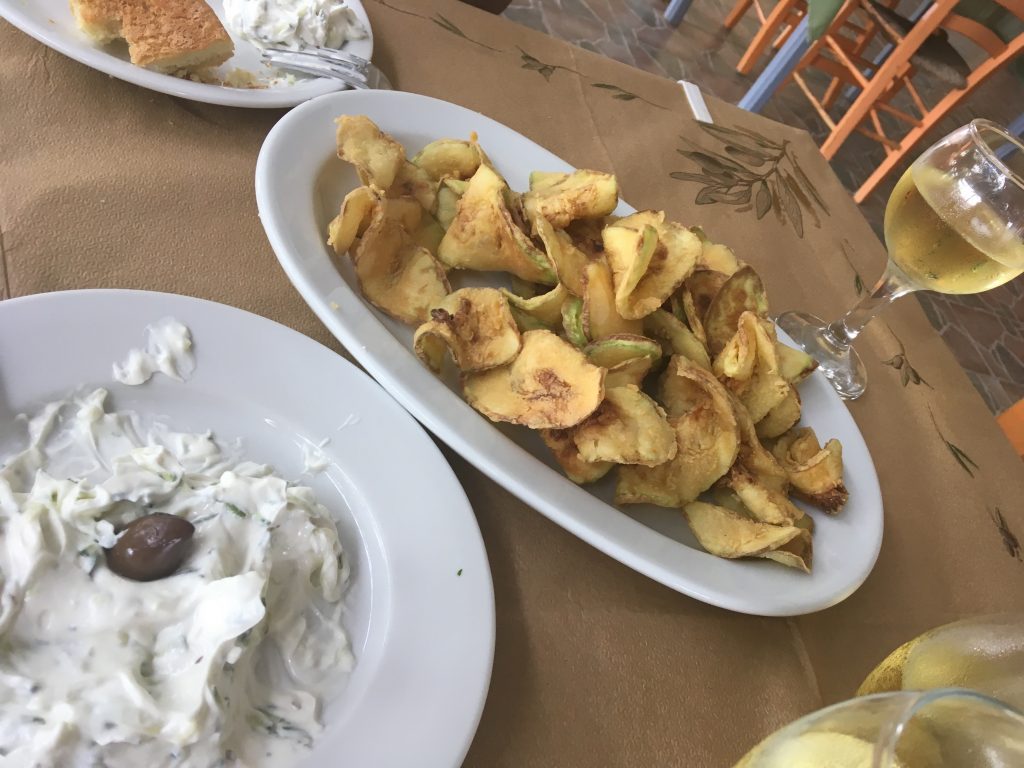 I just love to roll them around a goodly dollop of Harry's equally superb tzatziki, made with very rich and thick local yoghurt. Today's Greek salad is also exceptional and the oil that anoints it is peppery yet creamy.
Tessa has also reached perfection with her negronis. Today I discover they are shaken over ice in a baby's bottle (without teat) left behind by a previous guest.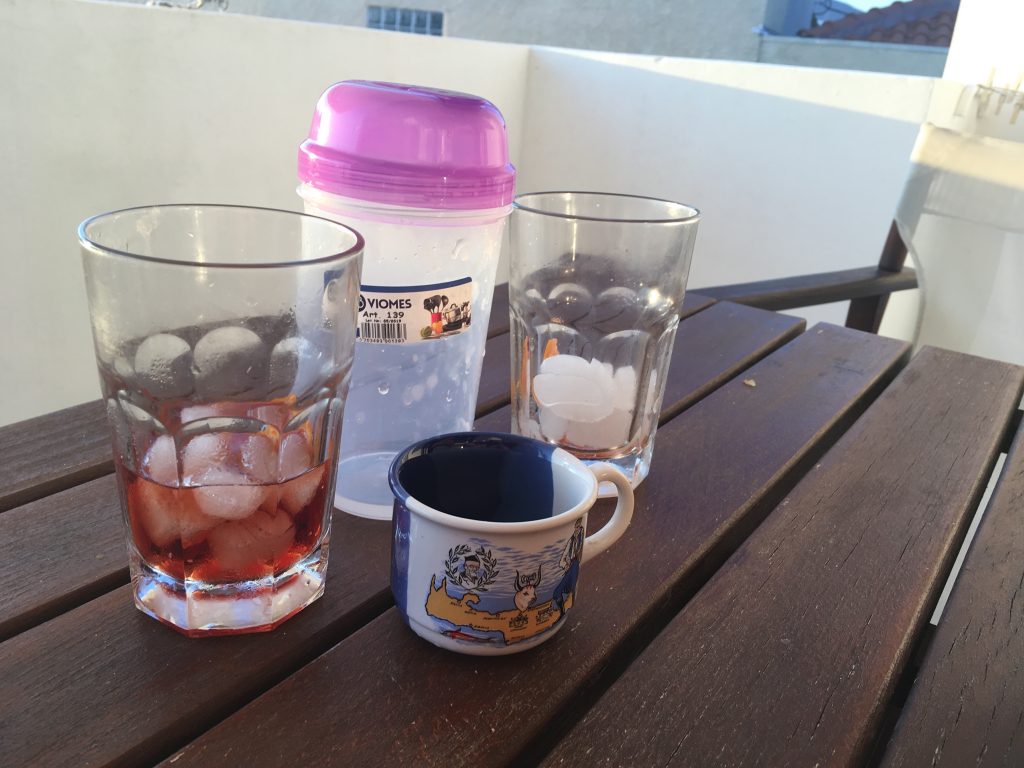 We make our way to our usual table at our favourite Myrina (old) harbour-side Café. A space has been cleared at the centre of the café area, a big buffet set up on a long trestle table outside two of the cafes. There are tall, elaborate white flower displays everywhere. Greek music begins and first two then more women form a circle and delight us with their Greek dancing. Eventually there are a dozen or so dancers and they dance and dance and we applaud. A few men join in and later the men take over, their dance far more of a leg twister, showing deft little steps and turns. We assumed the festivities were for a wedding but a random man who briefly joins our table explains that it is a Christening party.
On our way to supper, I'd noticed a row of thick, long, dark reddy-brown sausages hanging in a thick fridge on a rail behind the huge plate glass window of the butcher.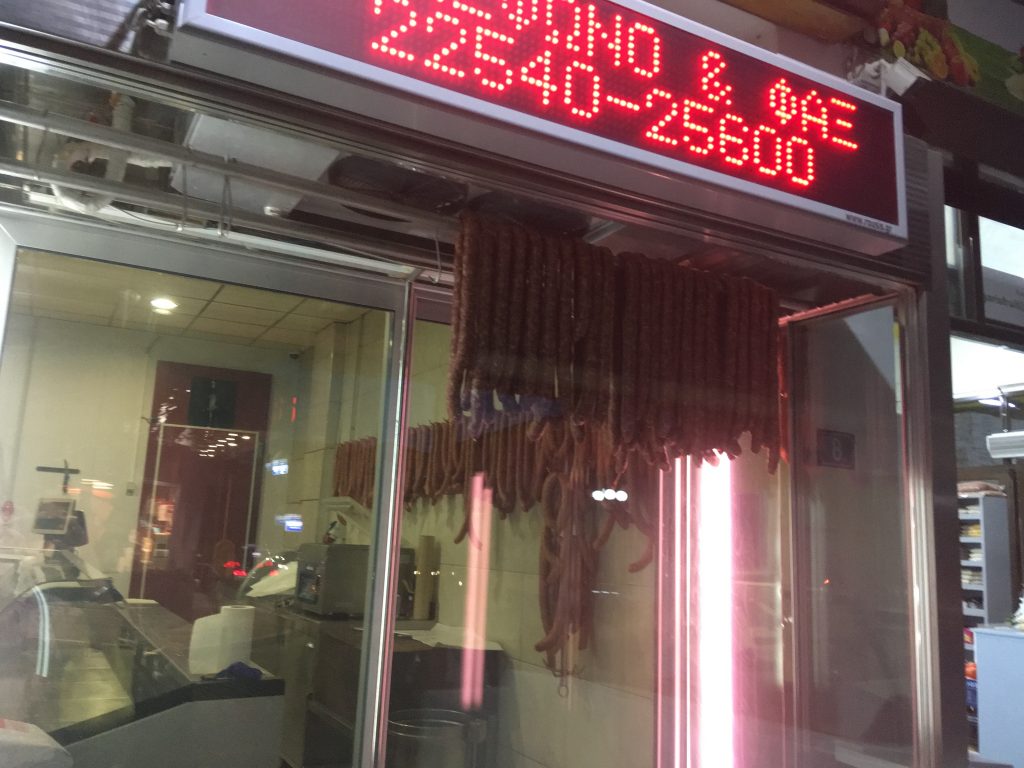 It prompts me to suggest sausages for supper and they arrive, similarly dark in colour and split lengthways, arriving with scorch marks from the barbecue. We treat ourselves to chips – Greek chips remind me of my mums; probably fried to order in a frying pan rather than a chipper. The potatoes are dense and waxy, the flavour how potatoes used to taste. I wanted to try their aubergine salad; it's not a salad at all but here a lumpy roast aubergine puree laced with pieces of roasted red pepper and tomato and a spicy back taste. We pile it onto the crusts of our golden bread.
Tuesday
I order aubergine salad at Harry's and his version is smoother, more like Lebanese moutabal and turns out to be a lovely, creamy relish to smear over grilled calamari. We eat another particularly good Greek salad. Yes, we have one every day and everything about it; the flavour of the tomatoes, crisp slivers of onion and juicy pale green pepper with chunks of peeled cucumber, slabs of creamy feta and big, meaty black olives is perfection. The dressing is just vinegar and their peppery, fruity olive oil. I will miss it
Dinner at the preferred harbour-side Café is another lobster and spaghetti. This lobster is smaller than our first one but cooked very quickly, the meat succulent and moist. There seemed slightly less pasta too, again licked with fruity olive oil, scraps of tomato and pepper, the juices congregating under the carapace. We ate the lot. We hoped Efi's shop (part bakery, part cheese and winery) would still be open so we could chose from her piles of mini chocolate ice cream lollies. We were too late, so no pudding tonight.
Wednesday
Can't believe our week in Lemnos is nearly over but breakfast is another brilliant spinach pastry from the bakery. This time a small coil of very crisp warka-like pastry and not too much of it. 7/10.
The penultimate lunch at Harry's is deep fried aubergine slices with skordalia, the latter so smooth and silky; never has cold mashed potato tasted so good and the perfect foil to searingly hot, crisp aubergine, the inside buttery soft. Mussels are served on the half shell like oysters, big, plump and luscious, very orange and very meaty, requiring a very firm shove to edge them from the shell.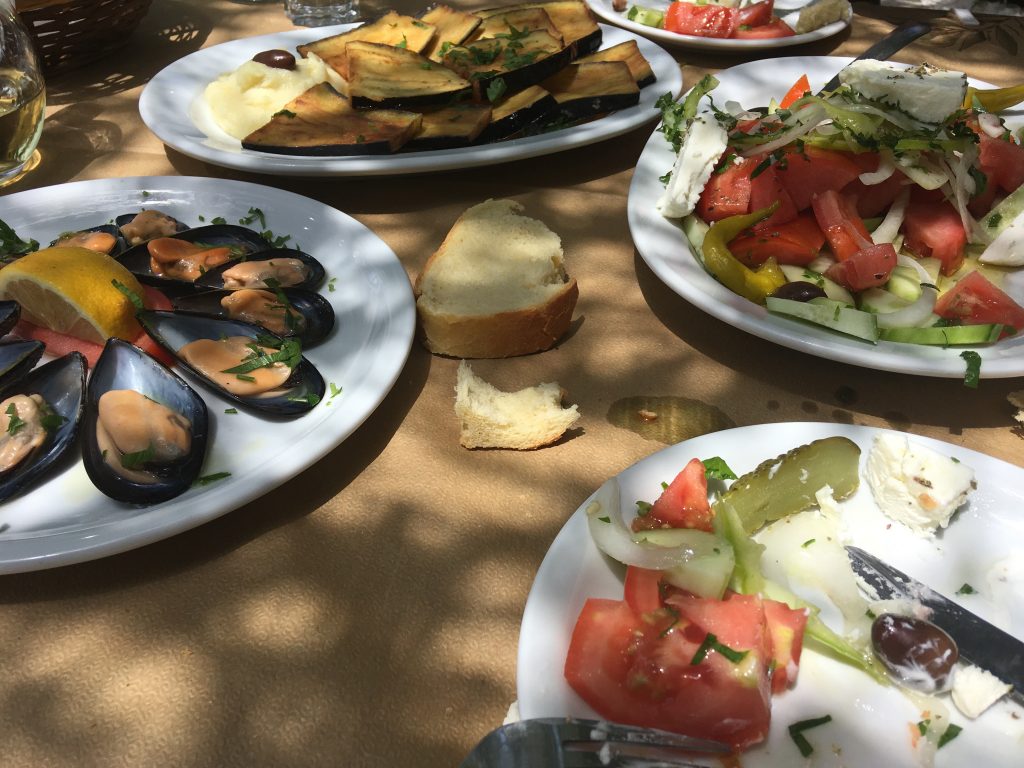 A quick negroni then off we go to meet Annette, our super-fixer whose real job is greeter and fixer for Sunvil who have many and many different holiday rooms on the island. She drives us across and up the island to Kontias. All along the water's edge of the low lapping sea, a deep pavement is set with poly-walled extensions of the restaurants across the road that leads to a rough and ready car park where we park. On one corner, with the two road-side walls/windows folded back so the front of the restaurant is virtually open, is Harry's other restaurant. It was set up, I suspect, for his children and both son and daughter run the place with waiters we recognise from years ago at the Thanos restaurant. We order white wine and water and settle down to make our choices. I couldn't resist ordered taramasalata which arrived that bright, lurid salmon pink colour that Jonathan Meades, in his days as Tatler's feature's editor, mused might be made in a vast vat in some underground kitchen to supply all London's Greek restaurants. Anyway, it was the weak link in a wonderful meal. The portions, as always, were huge and although we ordered one of everything, there was far too much food. Their so-called aubergine salad was the best yet. Sloppy and soft strands of barbecued aubergine were obviously pounded by hand with what I think was grated carrot. The highlight, though, was lettuce salad. A first for us; a crisp lettuce shredded with thin strips of cucumber and very good vinaigrette. Chicken kebabs, very well done burgers (tasting far better than they looked) and exceptionally good pork fillet that must have been marinated and was beautifully cooked so the surface was crusty and salty, the meat tender and falling in shards liked pulled long-roast pork. All the meat came with chips, the burger (three) also came with rice. Both Alexandra and her brother recognised us and there was much hugging and sadness over the death of their father. Back home to a couple of mini choc ice cream lollies from the bakery which were stashed in my freezer.
Thursday
The bakery excelled itself this morning. On our way back from buying three lovely pink plants for Efi and Kosta's garden, we popped into the bakery and chose tiny, very crisp, filo-type pastry spinach triangles.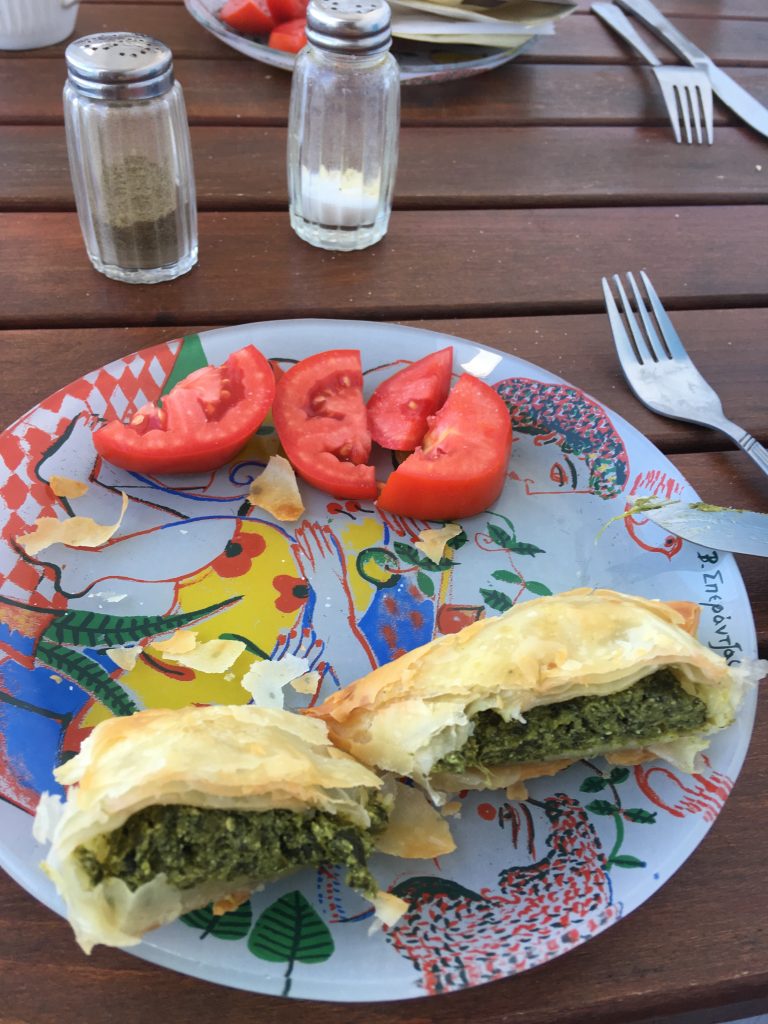 The best yet; 8/10. I excelled with my boiled egg technique – egg into cold water in a Greek coffee pot, brought quickly to the boil and boiled for 2 minutes. Bingo: for the first time, I achieved a soft-boiled egg, eaten with a crust of toast (no butter). Lemnos eggs have golden yolks and a rich flavour.
For our last morning, we are up and packed, ready for the beach at 9.30. Our final Harry lunch is early but the Taverna is surprisingly busy. We have large barbecued prawns, the heads intact but the body peeled. Strange but they tasted superb, juicy and bathed in lemon and olive oil. Along with the inevitable Greek salad, we also had sticks of local soft goat cheese dipped in batter, deep fried and doused in local honey with a sesame seed garnish. As usual we ordered far too much. Just time for a last sea dip and walk along the gorgeous beach and there was Andonis in his taxi ready to whip us back to our rooms and final showers and goodbyes.
I arrive back home at 8.30 (10.30 Greek time) and the Barrister has champagne on ice and two huge veal chops for supper. He griddles them to perfection (oil the meat not the griddle I hear myself blurting) and we devour them with sweet and mealy little petits pois from a can.
Friday
Spend the day faffing around, completely out of sync with the day (Greece is two hours ahead) and trying not to eat because I've had such a greedy holiday. I fail miserably, caving into a late lunch of cheese on toast with a few cherry tomatoes. Dinner is with friends at the Garrick. Soothing Vichysoisse and perfectly cooked cold salmon with a young leaf salad for the Barrister and exceptional tranche of turbot for me.
Saturday
Spend the morning preparing food for a barbecue lunch tomorrow. My brother Adam and his wife Rosie are just back from Switzerland and there is much to celebrate. My niece Kit has just got a first in her law degree (in German!) and nephew Fred, our musical genius, has a scholarship to the Guildhall School of Music and Drama. My menu is simple and get ahead: chicken kebabs in a ginger, garlic, lime and olive oil marinade, big, meaty Cumberland pork sausages (from sausage maestro www.mackenbros.co.uk), a cous cous salad with peas (actually petits pois from the freezer) and French beans from the flourishing plants in the front garden. With finely chopped watercress to give the salad 'bite' and 'pretty' (I like this American expression, picked up years ago from one of Elizabeth David's essays), it was a triumph of flavours and textures.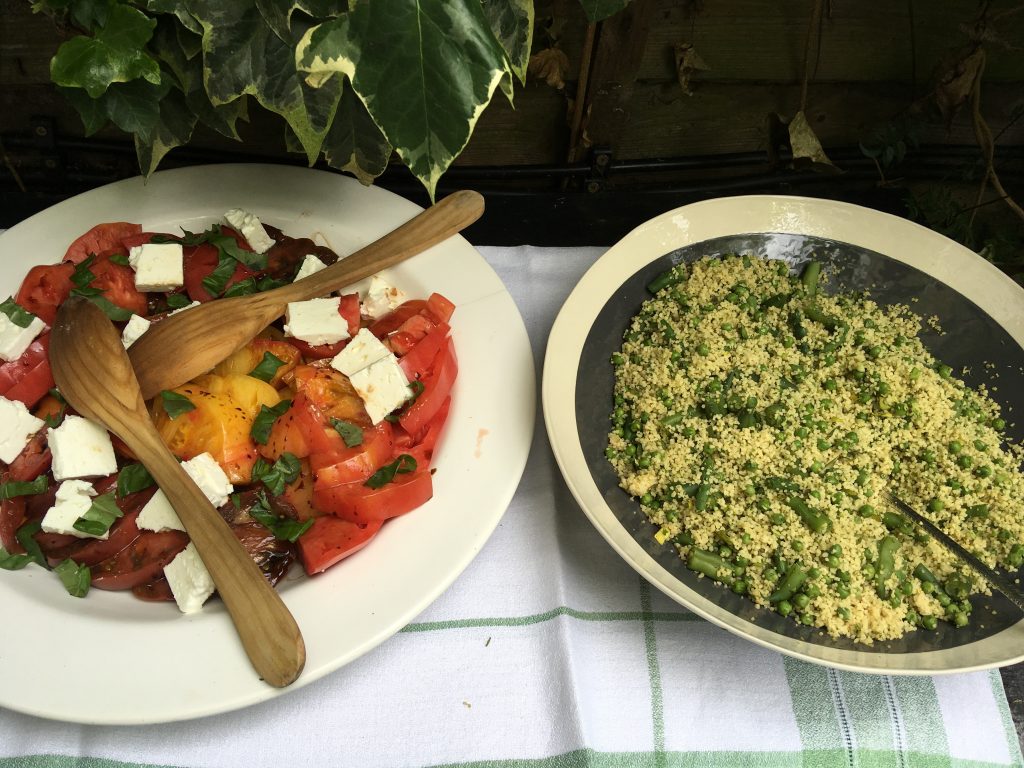 I also made tzatziki with disappointingly runny Neal's Yard Greek yoghurt. The flavour was good; I whipped lemon juice and fruity olive oil with crushed garlic into the yoghurt, with grated, seeded, peeled cucumber and mint from the garden. I stashed it in a poly box, hoping it would thicken. It didn't.
The Barrister bought a net of mussels for lunch (www.coventgardenfishmonger.co.uk). The glossy black shells streaked with brown but blessedly clean, just needing their beards pulled and a thorough wash in several changes of water. There were a few cracked shells but not many. I cooked them simply in finely chopped onion and garlic, softened in olive oil with a generous splash of leftover white wine and a finale of chopped flat leaf parsley. My they were good, the juices mopped up with particularly good ciabatta, the so-called slipper bread popped in the oven to crisp up the thin crust and warm the soft, holey dough. Yum.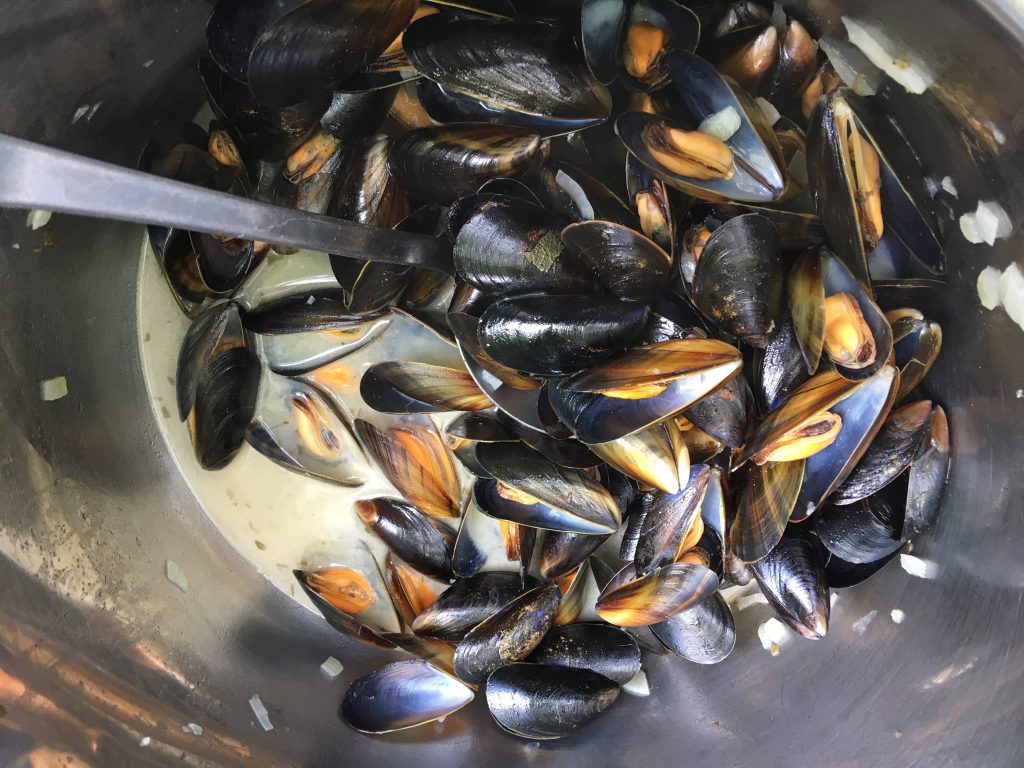 A lovely lazy supper of cheese omelette; seven eggs lightly beaten with a generous handful of mature Emmental (there's a Swiss theme today), quickly rumbled in my favourite blackened steel frying pan then lavished with grated Parmesan, loosely folded and popped under the grill for a nano second. I served it with masses of chives to give that cheese and onion flavour that always works so well. Leftover tomato salad went perfectly with this.